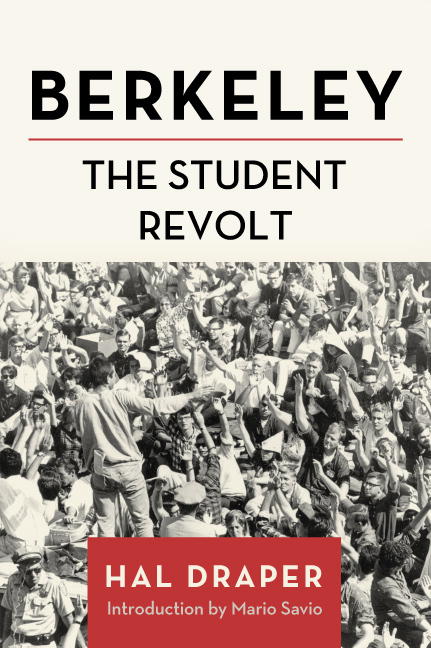 BERKELEY
The Student Revolt

Hal Draper
Introduction by Mario Savio
Haymarket Books (Summer 2020). Audio rights only
Trade Paper • ISBN-13:9781642591255 • US $22.00 • 6 in x 9 in • 280 pgs.
ABOUT THE BOOK:
Cliché as it may seem to be, just about every major political issue taken up in this book from 1964 has once again become a major motivating force for contemporary activists. From Campus Free Speech fights to mounting tuition costs, the issues tackled by the Berkeley Free Speech Movement, and covered in this book have a growing audience. This, combined with the historical significance of Draper's participant account, is sure to make this book an important point of reference for contemporary activists.
PRAISE:
"We live in an era in which it is becoming more and more difficult to learn from the lessons of history, especially from a history filled with the spirit of civic engagement, revolt, and a seething desire to struggle over institutions such as higher education, which are crucial to a democracy. Berkeley: The Student Revolt speaks to a moment in history alive with the spirit of student revolt, outrage over the corporatization and militarization of the university, and deeply aware of the connection between the crisis of the university and its relationship to the crisis of society. This book is both inspiring and informative, moving in its depiction of civil rights, the struggle for academic freedom, the necessity of free speech as a mode of dissent, the refusal to accept the university as a 'knowledge industry,' and the need to give voice to the students themselves. Berkeley: The Student Revolt speaks to both a language of not only critique, the visceral language of protest, but also to a merging of struggle and hope that can serve as invaluable resource for future generations.
Henry Giroux

ABOUT THE AUTHORS:

The late Hal Draper is the author of the five-volume study of Karl Marx's Theory of Revolution (Monthly Review Press) as well as War and Revolution: Lenin and the Myth of Revolutionary Defeatism (Humanities Press) and Berkeley: The New Student Revolt (Grove Press.) He was also a prominent socialist journalist and editor of the journal Labor Action from 1948-1958.
Mario Savio was one of the most famous leaders of the Berkeley Free Speech Movement.