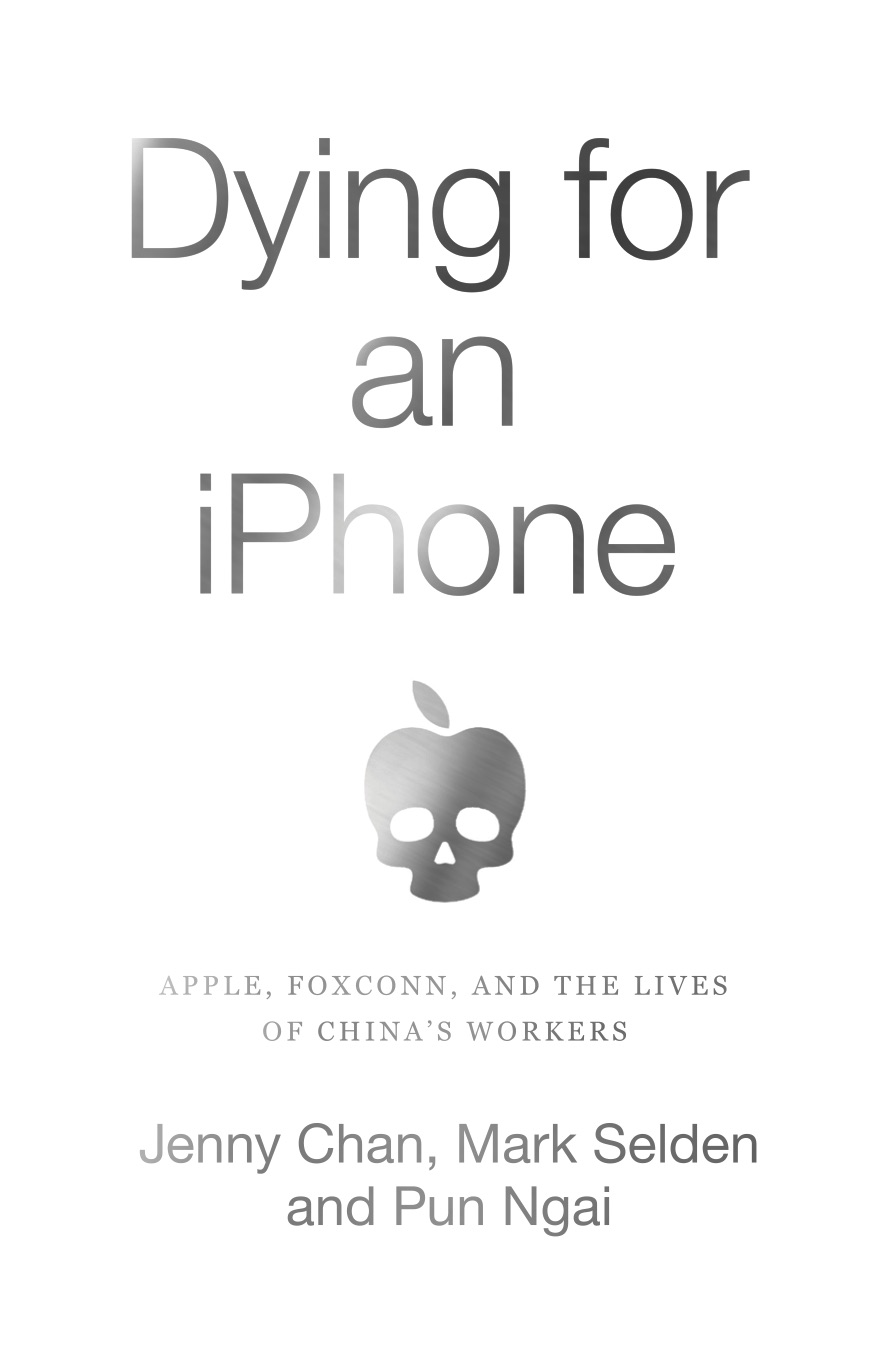 DYING FOR AN IPHONE
Apple, Foxconn, and The Lives of China's Workers
Jenny Chan, Ngai Pun, and Mark Selden
Haymarket Books (Summer 2020)
Trade Paper • ISBN-13:9781642591248 • US $19.95 • 6 in x 9 in • 225 pgs.
ABOUT THE BOOK:
Suicides, excessive overtime, and hostility and violence on the factory floor in China. Drawing on vivid testimonies from rural migrant workers, student interns, managers and trade union staff, Dying for an iPhone is a devastating expose of two of the world's most powerful companies: Foxconn and Apple.

As the leading manufacturer of iPhones, iPads, and Kindles, and employing one million workers in China alone, Taiwanese-invested Foxconn's drive to dominate global electronics manufacturing has aligned perfectly with China's goal of becoming the world leader in technology. This book reveals the human cost of that ambition and what our demands for the newest and best technology means for workers.

Foxconn workers have repeatedly demonstrated their power to strike at key nodes of transnational production, challenge management and the Chinese state, and confront global tech behemoths. Dying for an iPhone allows us to assess the impact of global capitalism's deepening crisis on workers.'
PRAISE:
'Takes us to the dark side of Apple'

Le Monde Diplomatique – Books of the Month
'Dying for an iPhone is an absolutely necessary read for anyone seeking to understand the realities of modern-day capitalism. Contrary to the mythology of Silicon Valley, this carefully researched book explains why companies like Apple owe their success more to exploitation than to innovation'

Wendy Liu, author of Abolish Silicon Valley: How to Liberate Technology from Capitalism
'Dying for an iPhone takes readers deep inside the dark Satanic mills of Foxconn's industrial empire. Drawing on the words of the workers themselves, the book offers an invaluable portrait of the Chinese working class as it pumps blood (sometimes literally) into the productive heart of world capitalism'

Ben Tarnoff, co-founder of Logic Magazine
'Critical, accessible, and rigorously researched, this book offers the most comprehensive analysis of Foxconn, the world's largest electronics factory: its bleak landscape, dire consequences, and inspiring efforts to change it for the better'
Jack Linchuan Qiu, author of Goodbye iSlave: A Manifesto for Digital Abolition
'A sobering investigation into the human, social and environmental costs of producing the devices we have come to rely on, a process in which both corporations and we, the consumers, are complicit'

Nick Holdstock, author of Chasing the Chinese Dream
'A deep dive into exploitation and labour struggle in the world of high-tech electronics manufacturing in China during the past decade. Dying for an iPhone is an expose of the human suffering behind the brands. Everyone should read this'

Hsiao-Hung Pai, Taiwanese journalist
'Deeply researched, comprehensively annotated and fuelled by anger'
Mike Cormack, South China Morning Post
'An invaluable resource for anyone wishing to explore the abuses inherent in labour practices, both in China and in tech supply lines'

Oliver Farry, Irish Times
ABOUT THE AUTHORS:
Jenny Chan is Assistant Professor of Sociology at The Hong Kong Polytechnic University. She is also the Vice President of the International Sociological Association's Research Committee on Labour Movements. Her recent articles have been published widely in Current Sociology, Modern China, Rural China, and many other journals and edited volumes.
Mark Selden is Senior Research Associate in the East Asia Program at Cornell University. He is editor of the online Asia-Pacific Journal. His books include China in Revolution: The Yenan Way Revisited; The Political Economy of Chinese Development; and The Cambridge History of Communism.
Pun Ngai is Professor of Sociology at The University of Hong Kong. She is author of Made in China: Women Factory Workers in a Global Workplace and Migrant Labor in China.
RIGHTS INFORMATION:
Languages & Territories Where Rights Have Been Sold:
Please contact subagents for the following languages and territories:
For all other languages/territories, please contact Roam Agency.