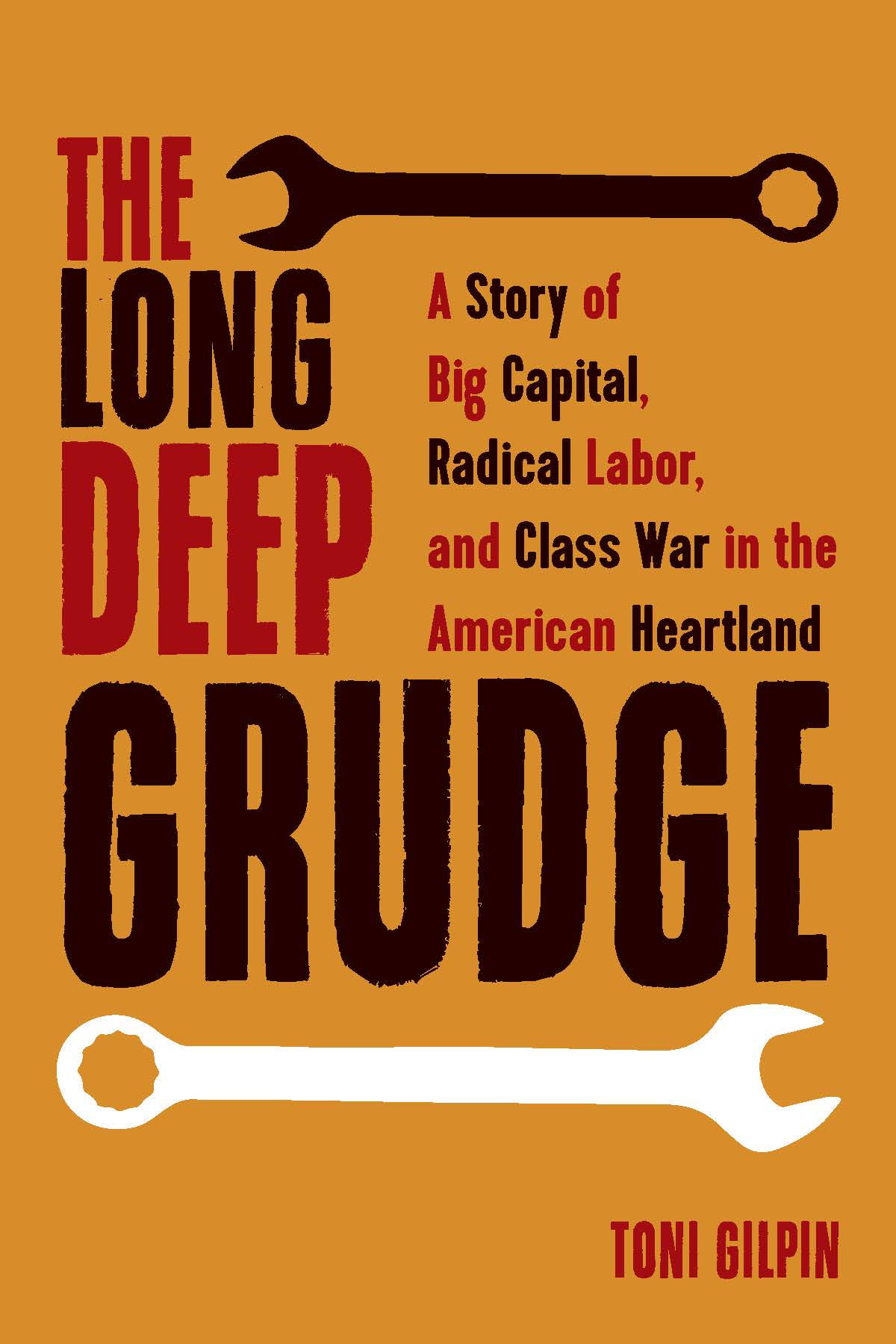 THE LONG DEEP GRUDGE
A Story of Big Capital, Radical Labor, and Class War in the American Heartland

Toni Gilpin
Haymarket Books (January 2020)
Trade Paper • ISBN-13: 9781642590333 • US $24.95 • 6 in x 9 in • 425 pgs.
ABOUT THE BOOK:
This rich history details the bitter, deep-rooted conflict between industrial behemoth International Harvester and the uniquely radical Farm Equipment Workers union. The Long Deep Grudge makes clear that class warfare has been, and remains, integral to the American experience, providing up-close-and-personal and long-view perspectives from both sides of the battle lines.
International Harvester – and the McCormick family that largely controlled it – garnered a reputation for bare-knuckled union-busting in the 1880s, but in the 20th century also pioneered sophisticated union-avoidance techniques that have since become standard corporate practice. On the other side, the militant Farm Equipment Workers (FE), whose leaders were connected to the Communist Party, mounted a vociferous challenge to the cooperative ethos that came to define the American labor movement after World War II.
This evocative account, stretching back to the nineteenth century and carried through to the present, reads like a novel. Biographical sketches of McCormick family members, union officials and rank-and-file workers are woven into the narrative, along with anarchists, jazz musicians, Wall Street financiers, civil rights crusaders, and mob lawyers. It touches on pivotal moments and movements as wide-ranging as the Haymarket "riot," the Flint sit-down strikes, the Memorial Day Massacre, the McCarthy-era anti-communist purges, and America's late 20th-century industrial decline.
Both Harvester and the FE are now gone, but this largely forgotten clash helps explain the crisis of yawning inequality now facing US workers, and provides alternative models from the past that can instruct and inspire those engaged in radical, working class struggles today.
PRAISE:
"The Long Deep Grudge is a timely reminder of the power of our vision of militant unionism and the importance of left-wing ideas to that vision."
UE News
"Given IH's economic and political power, it's amazing that the FE accomplished what it did in its short lifetime. Instead of mourning its demise, though, we should celebrate its legacy and rekindle its spirit. Reading The Long Deep Grudge is a good way to start. Read it with some friends."
Labor Notes
"A useful labor history that could spark renewed interest in unions at a time when "activists are back at the drawing board."
Kirkus Reviews
"A capitalist family dynasty, a radical union, and a revolution in how and where work gets done- Toni Gilpin's The Long Deep Grudge is a detailed chronicle of one of the most active battlefronts in our ever-evolving class war."
John Sayles
"Toni Gilpin's The Long Deep Grudge is a remarkable accomplishment, which succeeds on multiple levels. The definitive history of an important but largely forgotten labor organization and its heroic struggles with an icon of industrial capitalism, this book is also a compelling and deeply moving reflection on the tragic history of radical industrial unionism in Twentieth Century America. It is essential reading for anyone who truly wishes to understand the history of labor and class struggle in this country."
Ahmed A. White, author, The Last Great Strike: Little Steel, the CIO, and the Struggle for Labor Rights in New Deal America
"In The Long Deep Grudge, Toni Gilpin does more than simply excavate the story of a largely forgotten Midwestern union with a small but vibrant heyday more than six decades ago. This highly readable history contains important insights for those concerned with revitalizing a more activist-oriented labor movement to overcome the stark economic inequalities surrounding us today. This saga of the Farm Equipment Workers' victories over major industrialists in 1940s Chicago and Louisville offers a vivid reminder that in a nation built on racial capitalism, the hard work of bridging long-standing racial divides and of promoting black leadership is vital to successful organizing to improve working people's lives. Unions work best, Gilpin's work illustrates, when they inspire their members to push past the norms around them to advance a passionate shared vision for a fairer workplace. Highly recommended."
Catherine Fosl, Director, Anne Braden Institute for Social Justice Research
"Toni Gilpin brings us a vivid story of greed, revenge, and the search for justice. It's about the McCormick family, whose passionate anti-unionism helped to bring us the Haymarket tragedy, and the multiple generations of workers who refused to forget, and finally took them on. This is a riveting labor history drama that will stir your soul. Farm Equipment workers in the 1930s reawakened the spirit of resistance, providing a model for thinking about how to get power, and how to think and act with a radical vision. They refused to concede to corporations the structuring of the workplace or the economy; they connected union rights with civil rights; and they learned how to create an effective strike. From Chicago to Louisville, Kentucky, they built an interracial coalition and defied the corporate attempt to defeat unionism through corporate decentralization. The FE fashioned a class war unionism, and for a time it seemed they would prevail. We know the costs of the red-baiting that purged this union's legacy: today ten tiers of wages are considered normal, and the McCormick's strategy of divide and conquer is considered normal. So there is much to learn here about how radical solidarity was created in an earlier time."
Rosemary Feurer, author, Radical Unionism in the Midwest
"The Long Deep Grudge takes labor history to the barricades, where a small union deeply committed to class struggle on the job squares off against a corporate giant determined to enforce managerial prerogatives. This epic tale is also an entirely human-scale drama that brings to life multiple generations of radical labor leaders, rank-and-file workers, captains of industry, and public officials dedicated to the defense of private wealth. Though they won quite a few battles, the story's s chief protagonists—communist organizers who founded the Farm Equipment Workers and unionized International Harvester when even John L. Lewis thought it couldn't be done—ultimately lost the war, for reasons that go a long way to explain why the U.S. labor movement is so much weaker now than in was in the FE's heyday. That labor liberals' capitulation to anticommunism ultimately weakened unions comes across loud and clear, as does the folly of dependence on labor-management cooperation as opposed to the FE's maxim that "a strong picket line is the best negotiator." More important, the FE's history teaches by example that a union can punch far above its weight when members stand ready to come out swinging, not only because they're angry at the boss but also for love of one another and an organization that truly belongs to them. For that alone, The Long Deep Grudge ought to be required reading for every labor activist in the United States."
Priscilla Murolo, co-author, From the Folks Who Brought You the Weekend: An Illustrated History of Labor in the United States
"We need unions like the Farm Equipment Workers (FE), Toni Gilpin proves emphatically in her study of this left-led Midwest once-powerhouse. She shows the direct line between union leaders' rock-hard belief that "management has no right to exist" and the way FE members organized to defend themselves, constantly, on the shop floor—with many thrilling tales of class struggle in the flesh. Without FE leaders' socialist politics, the union could well have gone the way of its rival, the United Auto Workers, on a short path to a belief in "management's rights" and therefore an acceptance of speed-up—and outsourcing, plant closings, and a bureaucratic grievance procedure instead of quickie strikes. No wonder the rank and file loved that union."
Jane Slaughter, Labor Notes
"The Long Deep Grudge is a thoroughly researched work of history that reads like a great novel. In telling the story of how International Harvester workers confronted the corporation which exploited them, Toni Gilpin makes a compelling case that the aggressive shop-floor struggle conducted by rank-and-file FE members was inextricably connected to the left-wing views of their union's leadership. Everyone who wants to build a more militant labor movement, that can improve working people's lives on the job and in their community, should read this book."
Carl Rosen, General President, United Electrical, Radio & Machine Workers of America (UE)
"The Long Deep Grudge is the gripping tale of another Heartland—a Midwest filled with militant workers who took on one of the world's largest corporations and, for a time, won dignity, high wages, and power on the job. It is the story of the kind of radicalism that comes from fighting a corporate giant like International Harvester. Union stalwarts like Gilpin's father fought not to improve the company's productivity, but "to claw back as much corporate wealth as possible." Told with vigor and wry humor, The Long Deep Grudge has lesson's for trade unionists, radicals, and anyone struggling for a better world in the here and now."
Tobias Higbie, faculty chair Labor Studies, University of California, Los Angeles
"Combining the expertise of a historian, detailed eye of a journalist, and flair of a novelist, Toni Gilpin breathes life into an important and fascinating story that, in lesser hands, could be as dull as dishwater. Gilpin aspires to tell no less a story that the epic battle between a corporate behemoth and the working-class radicals who—for decades—fought it tooth and nail. The plucky, interracial, leftist Farm Equipment workers union that sought to wrest control of the shop floor from the owners and managers of International Harvester is the story of America."
Peter Cole, author, Dockworker Power: Race and Activism in Durban and the San Francisco Bay Area
"In this highly resonant study of the farm equipment workers, Toni Gilpin reminds 21st century labor partisans of how a militant, democratic and multicultural union won power and improved the lives of thousands—and why corporate and political elites came to fear the example it set for the rest of the working-class. We need a revival of industrial unionism in the Midwest and elsewhere. Her book helps tell us how to do it."
Nelson Lichtenstein, Director, Center for the Study of Work, Labor and Democracy
ABOUT THE AUTHOR:
Toni Gilpin is a labor historian, activist and writer. She is a co-author of On Strike for Respect: The Clerical and Technical Workers' Strike at Yale University, and is the recipient of the 2018 Debra Bernhardt Award for Labor Journalism.
RIGHTS INFORMATION:
Please contact subagents for the following languages and territories:
For all other languages/territories, please contact Roam Agency.