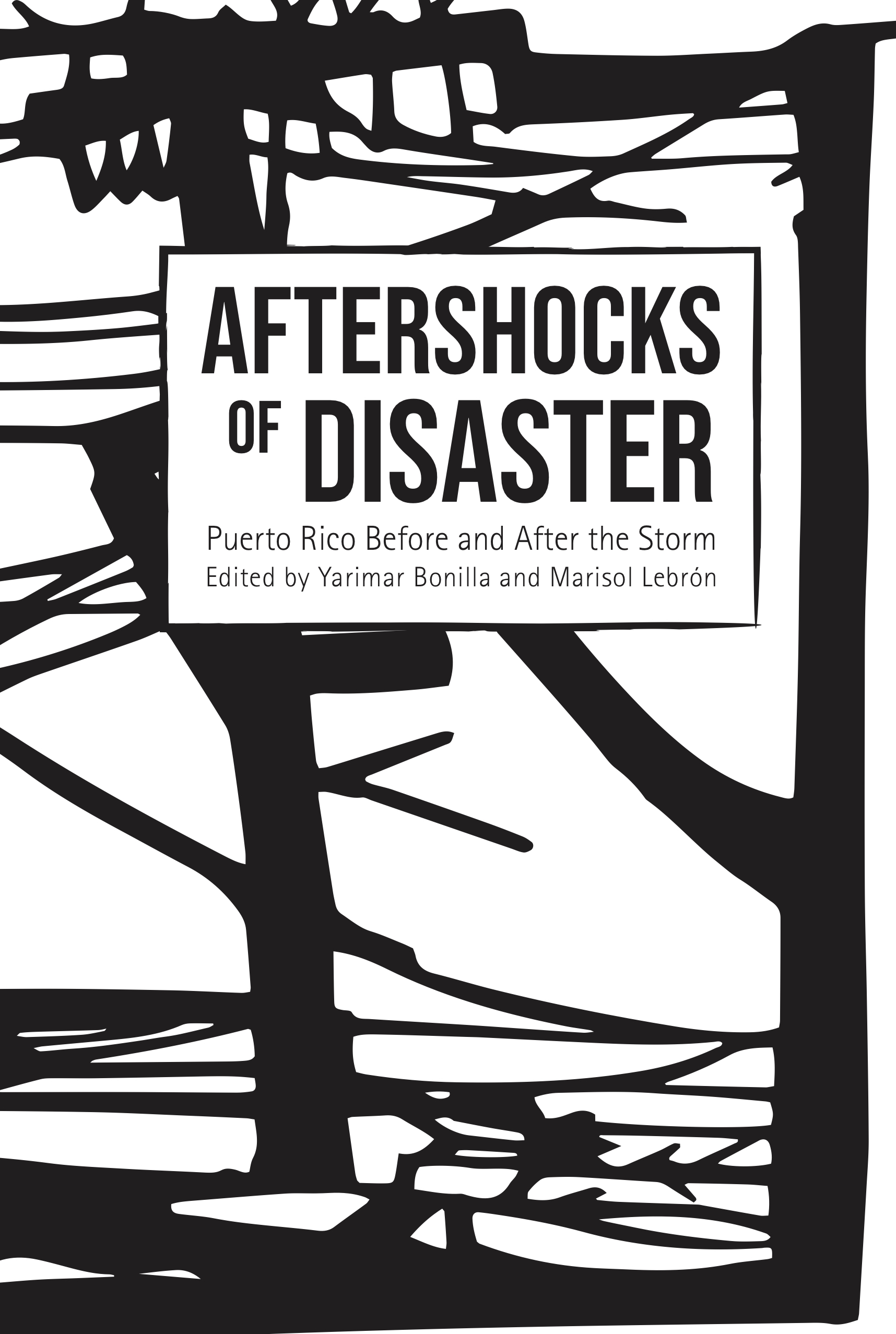 AFTERSHOCKS OF DISASTER
Puerto Rico Before and After the Storm
Edited by Marisol LeBrón and Yarimar Bonilla
Haymarket Books (Fall 2019)
Paper • ISBN-13: 9781642590302 • US $17.00 • 5.5 in x 8.5 in • 170 pgs.
ABOUT THE BOOK:
An in-depth look at Puerto Rico in the aftermath of Hurricane Maria and the pre-existing crisis that conditioned this historic disaster.
The concept of aftershocks is often used in the context of earthquakes to describe the jolts felt after the initial quake, but truly no disaster is ever a singular event. This volume documents the many shocks that Puerto Ricans endured before, during, and after Hurricane Maria. Bringing together scholars, activists, artists, and journalists, Aftershocks of Disaster examines not just the effects of the wind and rain, but also the impact of what followed: state failure, social abandonment, capitalization on human misery, and the collective trauma produced by a botched federal response
PRAISE:
"In this gripping collection of essays, poems and photos, Aftershocks of Disaster captures both the roots of Puerto Rico's current crisis in its continuing colonial status and the determination of the island's people to persevere and forge a better future."
Juan González, author of Harvest of Empire: A History of Latinos in America, and co-host of Democracy Now!
"Broad in scope, passionate, and urgent, Aftershocks is a necessary anthology of Puerto Ricans telling the story not just of Maria but of resistance to colonialism, austerity and disaster capitalism."
Molly Crabapple
"Hurricane Maria was a major disaster. It is also, potentially, a transformative event. The contributors to this powerful volume explain how big structural forces – climate change, colonialism, corruption, and capitalism – contributed to the devastation, but they also chart a radical path forward, towards a more just and sustainable world."
Eric Klinenberg, author of Palaces for the People: How Social Infrastructure Can Help Fight Inequality, Polarization, and the Decline of Civic Life
"For those of us who were forced out of Puerto Rico and who watched the hurricane from outside, this book provides beautiful and painful clarity about how we got here and the struggles behind our survival."
Rossana Rodríguez Sánchez, Boricua Activist, artist and Chicago Council member
ABOUT THE AUTHORS:
Yarimar Bonilla is a political anthropologist specializing in questions of sovereignty, citizenship, and race across the Americas. She has tracked these issues across a broad range of sites and practices including: postcolonial politics in the French Caribbean, the role of digital protest in the Black Lives Matter movement, the politics of the Trump presidency, the Puerto Rican statehood movement, and her current research, for which she was named a 2018 Carnegie Fellow, on the political, economic, and social aftermath of hurricane Maria in Puerto Rico.
Marisol LeBrón is an Assistant Professor in the Department of Mexican American and Latina/o Studies at the University of Texas at Austin. Her research and teaching focus on social inequality, policing, violence, and protest. She is the author of Policing Life and Death: Race, Violence, and Resistance in Puerto Rico, which examines the growth of punitive governance in contemporary Puerto Rico.
RIGHTS INFORMATION:
Languages & Territories Where Rights Have Been Sold:
Please contact subagents for the following languages and territories:
For all other languages/territories, please contact Roam Agency.