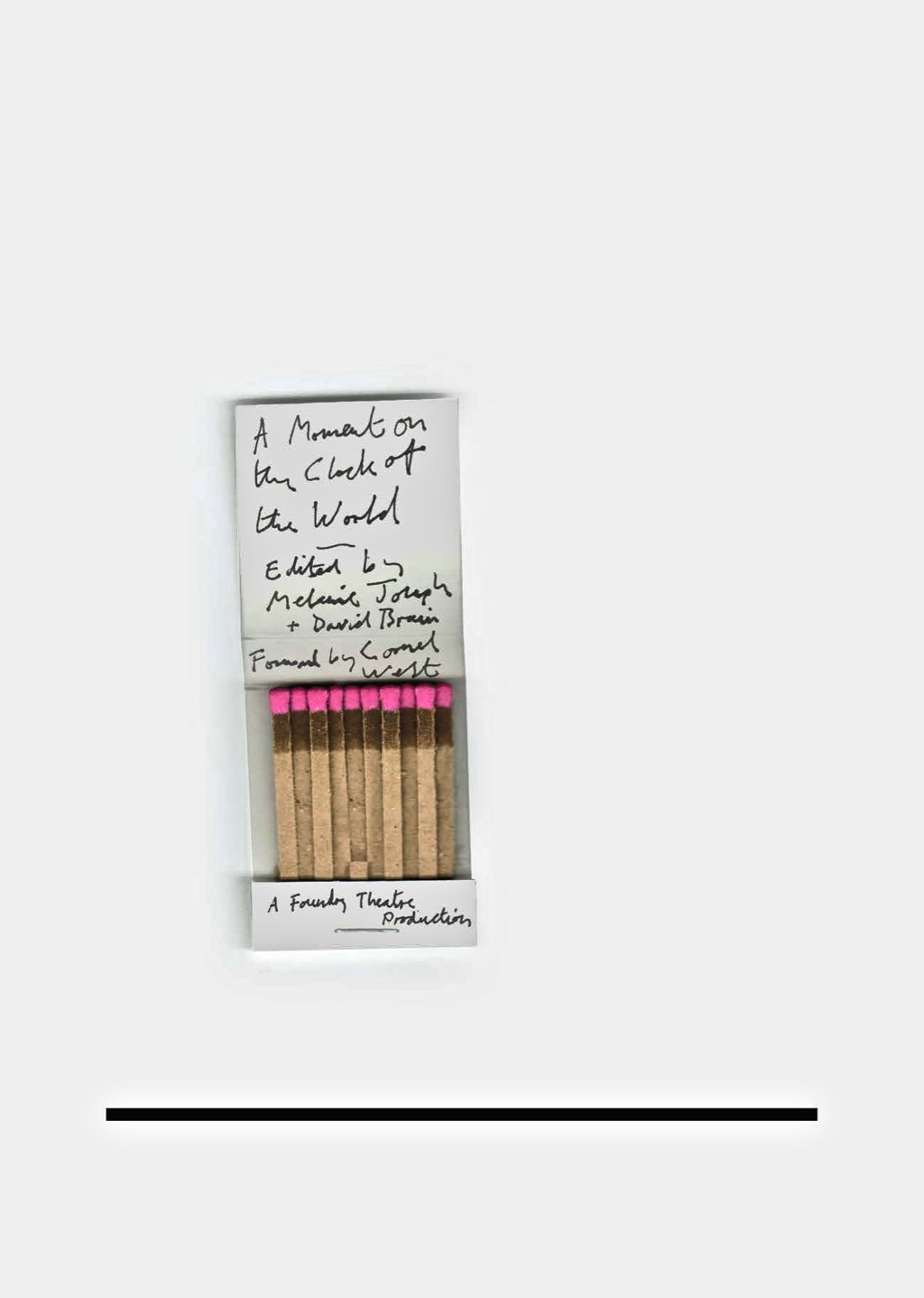 A MOMENT ON THE CLOCK OF THE WORLD
The Foundry Theatre
Edited by Melanie Joseph and David Bruin
Haymarket Books (Fall 2019)
Trade Paper • ISBN-13:9781642590296  • US $20.00 • 5.5 in x 8.5 in • 220 pgs.
ABOUT THE BOOK:
A Moment on the Clock of the World is a "mixtape" of artists, public intellectuals, community organizers and activists, journalists, and cultural theorists around the complexities of making lives of meaning in and with the world—in particular at the intersection of art and social justice.
This book captures a moment on the eternal continuum of such inquiry. It is inspired by the twenty-four years of public inquiry pursued by the award-winning Foundry Theatre whose critically- acclaimed productions and public dialogues have featured some of the most innovative artists and thinkers of the past quarter century: Claudia Rankine, Taylor Mac, Tarell Alvin McCraney, Naomi Klein, Cornel West, Grace Lee Boggs, and Barbara Ehrenreich, to name but a few.
ABOUT THE AUTHOR:
The Foundry is an ongoing performance of ideas — created by rigorous theatrical works, public dialogues and community engagement — that invites as many people as possible to consider what it means to be citizens of a world that we ourselves create.
RIGHTS INFORMATION:
Please contact subagents for the following languages and territories:
| Language/Territory | Subagent |
| --- | --- |
| China, Taiwan, Indonesia, Malaysia, and Vietnam | Big Apple Agency |
| English outside North America | David Grossman Literary Agency |
| German | Paul & Peter Fritz AG Literatur Agentur |
| Greek | Read n' Right Agency |
| Hebrew | The Deborah Harris Agency |
| Italian | The Nabu International Literary Agency |
| Japanese | The English Agency (Japan) Ltd |
| Korean | BC Agency, or Korea Copyright Center |
| Portuguese | RIFF Agency |
| Russia/Baltics/Eastern Europe | Prava I Prevodi |
| Scandinavia: Sweden, Norway, Finland, Denmark, Iceland | Brandt New Agency |
| Spanish in Latin America | International Editors' Co., S.A. |
| Spanish in Spain | International Editors' Co., S.A. |
| Turkish | Anatolialit Agency |
For all other languages/territories, please contact Roam Agency.