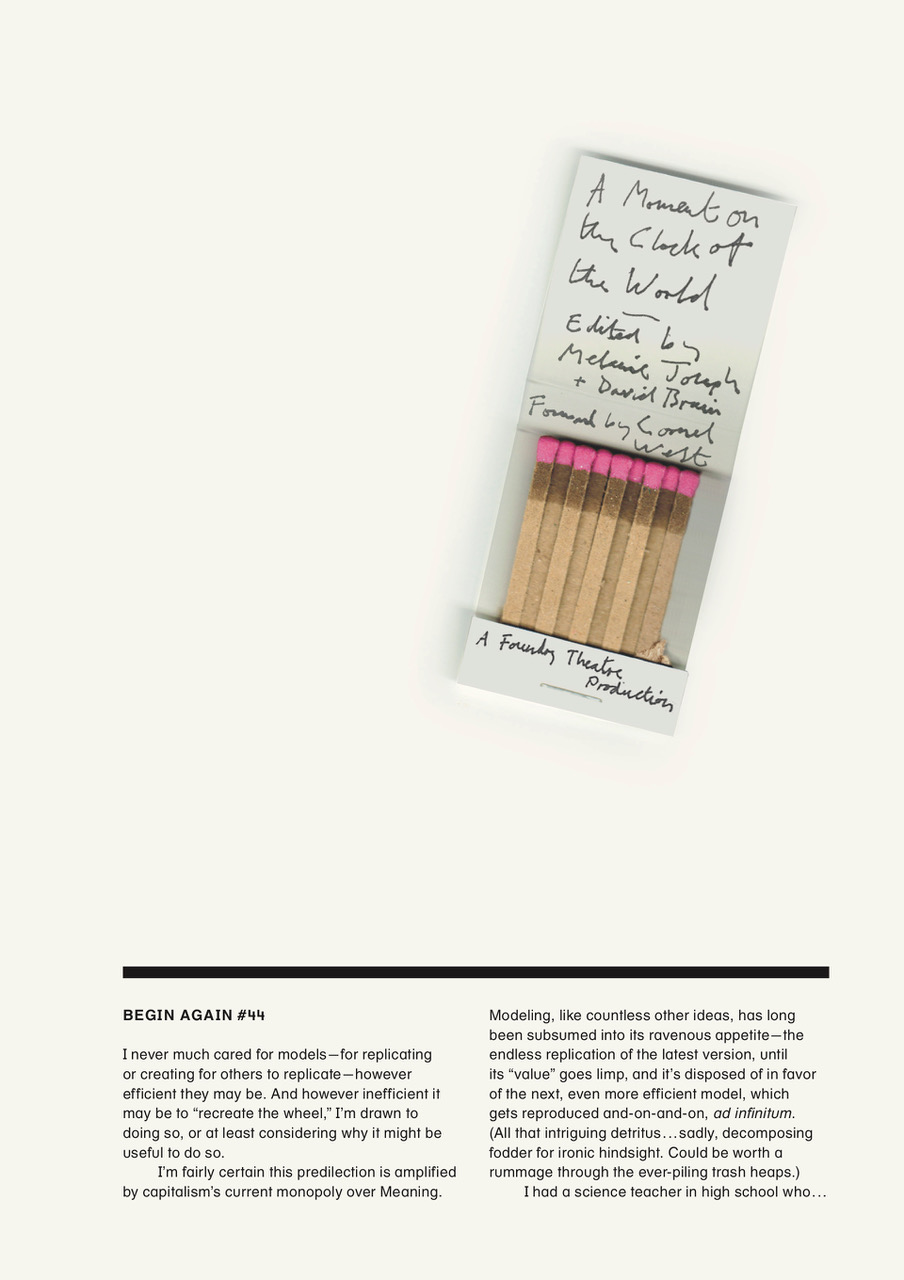 A MOMENT ON THE CLOCK OF THE WORLD
The Foundry Theatre
Edited by Melanie Joseph and David Bruin
Haymarket Books (Fall 2019)
Trade Paper • ISBN-13:9781642590296 • US $20.00 • 5.5 in x 8.5 in • 220 pgs.
READ: Cornel West on the Revolutionary Politics of the Foundry Theatre
ABOUT THE BOOK:
A Moment on the Clock of the World is a "mixtape" of artists, public intellectuals, community organizers and activists, journalists, and cultural theorists around the complexities of making lives of meaning in and with the world—in particular at the intersection of art and social justice.
This book captures a moment on the eternal continuum of such inquiry. It is inspired by the twenty-four years of public inquiry pursued by the award-winning Foundry Theatre whose critically- acclaimed productions and public dialogues have featured some of the most innovative artists and thinkers of the past quarter century: Claudia Rankine, Taylor Mac, Tarell Alvin McCraney, Naomi Klein, Cornel West, Grace Lee Boggs, and Barbara Ehrenreich, to name but a few.
PRAISE:
"This beautiful volume, celebrating the uncompromising vision of New York's Foundry Theatre, reminds us that the impossible is possible through creative courage and the conviction of one's deepest principles."
Los Angeles Times
"The Foundry Theatre is the great exemplar of artistic excellence, political courage, and visionary hope of American theatre in the late 20th and early 21st centuries."
Cornel West, (from the Foreword)
"These stunning essays, interviews, incantations, manifestations are by the best radical thinkers in the U.S. A. This collection is a manifesto filled with bold ideas, magic and poetry, a living record of the best of what is still called the 'un-American tradition' in theater. This is political and creative courage at its best and the voices inside this work are not only subversive but reach to the very root of why we make theater, why we keep coming back. Best of all, this book wrenches apart neoliberal notions of what 'resistance' truly is, and redefines and reconstructs them from the root up. And the root is the only place where the radical still lives. And there also lives The Foundry theater."
Naomi Wallace
"The Foundry Theatre has quietly been responsible for some of the most artistically ambitious work seen in New York in recent years."
The New York Times
"The Foundry has a long history of pushing plays beyond the boundaries of traditional theatre in terms of form, content, and location."
Time Out
"The Foundry has long had the passion for mixing artistic rigor with social activism."
The Brooklyn Rail
ABOUT THE AUTHOR:
The Foundry is an ongoing performance of ideas — created by rigorous theatrical works, public dialogues and community engagement — that invites as many people as possible to consider what it means to be citizens of a world that we ourselves create.
RIGHTS INFORMATION:
Please contact subagents for the following languages and territories:
For all other languages/territories, please contact Roam Agency.