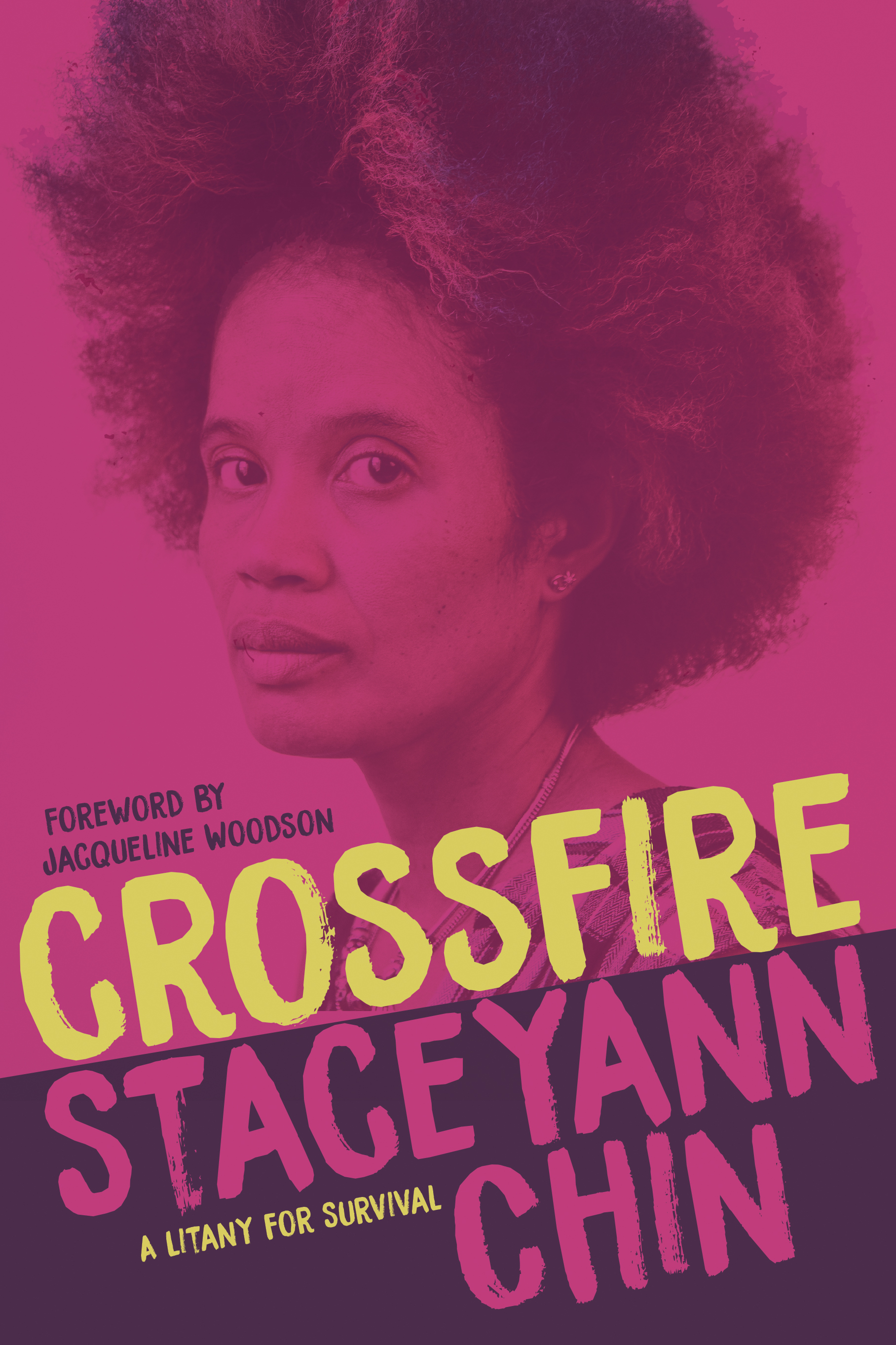 CROSSFIRE
A Litany for Survival
Staceyann Chin
Foreword by Jacqueline Woodson
Haymarket Books (Fall 2019)
Trade Paper • ISBN-13:9781642590258 • US $16 • 5.5 in x 8.5 in • 112 pgs.
ABOUT THE BOOK:
Crossfire collects Staceyann Chin's empowering, activist-driven poetry for the first time in a single book.
According to The New York Times, Chin "is sassy, rageful and sometimes softly self-mocking." The Advocate wrote her poems, "combine hilarious one-liners with a refusal to conform" and note "Chin is out to confront more than just the straight world."
PRAISE:
"With this astounding new collection of poems, Crossfire, it is evident that Staceyann Chin has come into her raw, sexual, revolutionary, poetic power. These poems are jet fueled from the hot center of the body—from rage, from sorrow, from pure unmitigated life force. Poems that suffer no fools, that hold no punches, that will not be repressed, dressed up, or tamed. They are provocations, invitations, incantations, elevations, revelations, and warnings. They are at you, in you, and on you. Mind orgasms that seer the soul and smack the conscience and just simply turn you the fuck on. Just wow!"
Eve Ensler
"Crossfire: A Litany for Survival scared me, and I was thrilled to read something that rattled me so deeply. I've never been as brave as Staceyann Chin, never as forthright about my own sexuality or trauma or longing, and she, who stands on the far side of the curve of feminist power, love, and rage, inspires us all to inch our way just a bit more in her direction. This book is full of 'random beauty,' as she says, and she reminds me, and all writers, that the reason we put pen to paper is 'for the words that threaten insanity/ if I do not speak out loud.' I'm so grateful for the reminder, and the exhortation to tell the stories and 'pitch this voice far beyond/ the secrets of our silent survival/ to reach for the greater intention/ to save more than my own life.' Staceyann is surely saving more than her own life by offering her voice to us."
Rosanne Cash
"Staceyann Chin's Crossfire: A Litany for Survival is a remarkable collection from a dynamic and talented writer, whose urgent storytelling and commanding voice feel vital for our times."
Edwidge Danticat
"We've all been waiting for this collection—all of us that know the brilliance, the heartbreaking truth-telling, and the magic of Staceyann's cadences. Now all of us who have been lucky to have seen her on stage, heard her from the ramparts, can be joined at last by readers in the quiet spaces to properly celebrate this remarkable voice and watch her take her place in American letters."
Walter Mosley
"Staceyann Chin writes 'This child will never be silent / I speak now / because my grandmother gave me tongue.' How fortunate we all are that Staceyann speaks her truth and, in doing so, speaks the truth of so many others. Crossfire brings together a passionate and riveting body of work that inspires all of us who speak for justice, for truth, for liberation."
Karine Jean-Pierre, author of Moving Forward
"Staceyann Chin possesses an epic sense of poetry. In Crossfire, she fuses Aborigines of Australia with Zulus with Seminoles, and she dangles readers—you, me, us—in her crosshair. We either do or don't do the reading. But we better do the reading. We don't want to risk not gaining the knowledge of her poetic insights. She's a tough teacher, whose "pen is angry" at how much she does "not know about mothering." But she knows how to bring to fruition a book of poetry, an exquisite form of "motherhood." From the various multi-part poems, like the lesbian appreciation poem, "Common Truths: Or Why I Love My Pussy" or the advice poem "Lesbian Chasing Straight" or the stunning "Take Back the Night" or the brilliant "Not My President" to the more lyrical "Fast as I Need To," a tribute to the late June Jordan, and the elegiac and explosive "Raise the Roof," Staceyann Chin exhausts and exhilarates us with "conversations of race/class/privilege in a house called women of color."
Cheryl Clarke, Author of Living As A Lesbian and By My Precise Haircut
ABOUT THE AUTHOR:
Staceyann Chin is a full-time artist. A resident of New York City and a Jamaican National, she has been an "out poet and political activist" since 1998. From the Nuyorican Poets' Cafe to one-woman shows Off- Broadway to acting in Julie Taymor's Across the Universe and performing in both the stage and film versions of Howard Zinn's Voices of a People's History of the United States, to starring in the Tony nominated, Russell Simmons Def Poetry Jam on Broadway.
Jacqueline Woodson is the 2018-2019 National Ambassador for Young People's Literature. She received the 2018 Astrid Lindgren Memorial Award and the 2018 Children's Literature Legacy Award, and is the 2014 National Book Award Winner for her New York Times bestselling memoir Brown Girl Dreaming, which was also a recipient of the Coretta Scott King Award, a Newbery Honor, the NAACP Image Award and a Sibert Honor. In 2015, Woodson was named the Young People's Poet Laureate by the Poetry Foundation. Her recent adult book, Another Brooklyn, was a National Book Award finalist, and her new adult book, Red at the Bone, is coming in September 2019. She is the author of more than two dozen award-winning books for young adults, middle graders and children; among her many accolades, she is a four-time Newbery Honor winner, a four-time National Book Award finalist, and a two-time Coretta Scott King Award winner.
RIGHTS INFORMATION:
Audio book:
Please contact subagents for the following languages and territories:
For all other languages/territories, please contact Roam Agency.