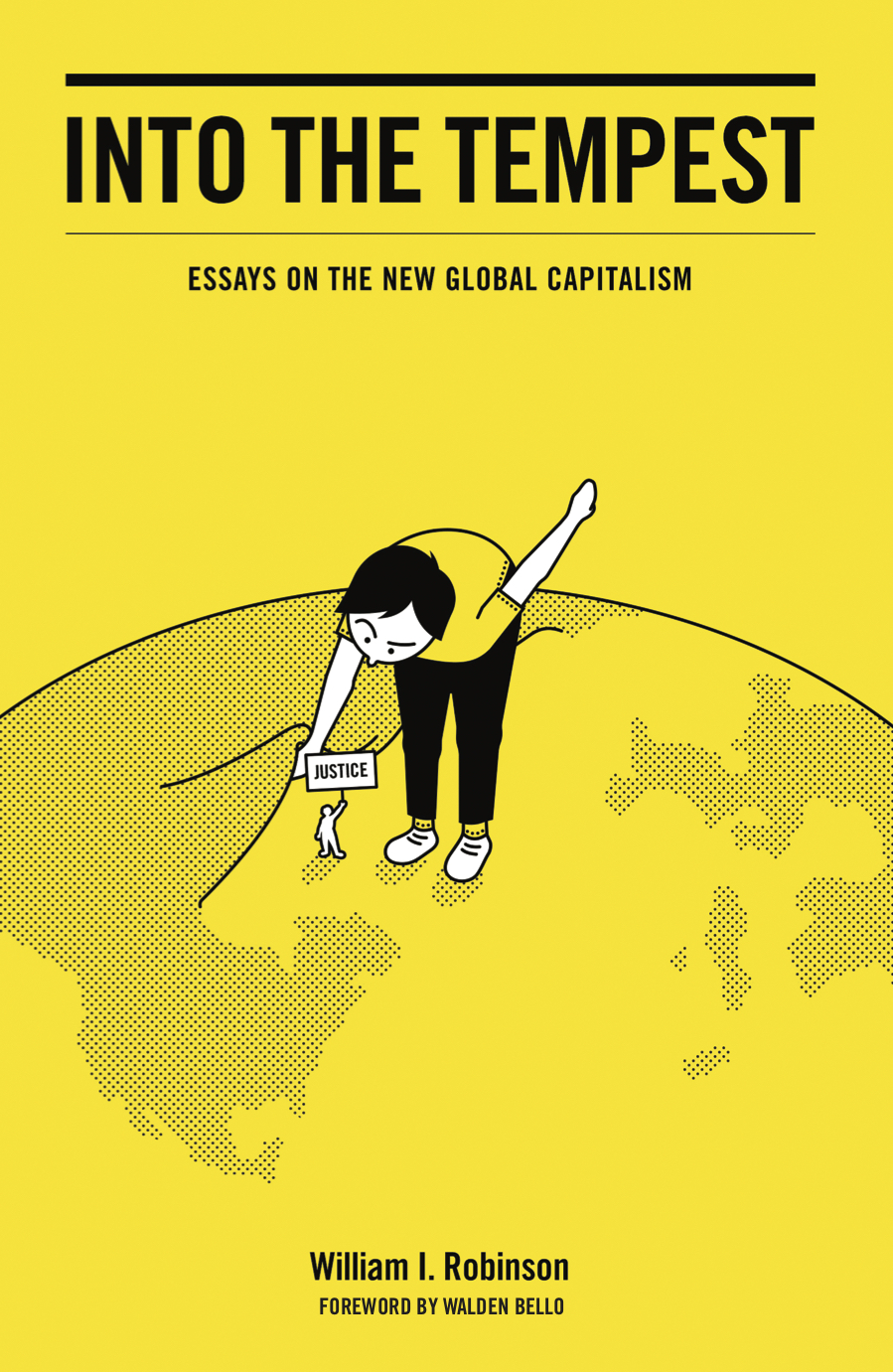 INTO THE TEMPEST
Essays on the New Global Capitalism
William Robinson
Foreword by Walden Bello
Haymarket Books (February 2019)
Paper • ISBN-13:9781608469666 • US $21.95 • 5.5 in x 8.5 in • 330 pgs.
ABOUT THE BOOK:
"This is an indispensable guide to globalization and the resistance to it by an indispensable thinker."
—Walden Bello, from the Foreword
In this critical new work, sociologist William I. Robinson offers an engaging and accessible introduction to his theory of global capitalism. He applies this theory to a wide range of contemporary topics, among them, globalization, the transnational capitalist class, immigrant justice, educational reform, labor and anti-racist struggles, policing, Trumpism, the resurgence of a neo-fascist right, and the rise of a global police state.
Taken as a whole, these ten essays provide an urgently needed perspective for those who want to understand the backdrop to today's headlines. Sure to spark debate, this is a timely contribution to a renewal of critical social science and Marxist theory for the new century. It is an indispensable tool for social justice advocates and scholars in these times of global crisis and transformation.
PRAISE:
"Robinson has by now accumulated an extraordinary mix of knowledges about global capitalism. Having worked in very diverse areas of the world, he brings to it a kind of wisdom, and this enables the reader to grasp the breadth of instances of the global in today's world."
Saskia Sassen, Columbia University, author of Expulsions
"Know your enemy and know yourself…' is how the iconic Sun-tzu began his famous command. William Robinson offers those engaged in the struggle against global capitalism a remarkable and compelling insight and framework in order to both understand our opponents as well as better grasp the strengths and weaknesses of the oppressed and dispossessed. This is the book for which I have been waiting and I could not put it down."
Bill Fletcher, Jr., former president of TransAfrica Forum; coauthor of Solidarity Divided and author of They're Bankrupting Us: And Twenty Other Myths About Unions
"William Robinson's Into the Tempest is a timely account of global gentrification. While most scholars concentrate on the city, Professor Robinson covers its global impact that has resulted in environmental destruction, social inequalities, and displacement of billions of people around the world. This has led to forced mass migrations. As in the case of micro gentrification society is entering the final stages of inequality accelerating a global collapse of modern civilization. Few realize that the state after gentrification is a Blade Runner world – a dystopian society devoid of human emotion and a collective historical memory."
Rodolfo F. Acuña, Professor Emeritus, Chicana/o Studies Department, California State University Northridge
"William Robinson's Into the Tempest is a collection of his essays on the emergence of a global police state and the nature of 21st century Fascism. It applies a trenchant structural analysis of the world-system with a Gramscian effort to theorize and mobilize liberatory social movements that challenge the reactionary forces emerging during the contemporary period of crisis. Robinson is the one of the best macrosociologists of his generation. His comparative and temporally deep perspective drives a synthesis of the global capitalism and world-system perspectives in a way that allows us to see through the fog of globalization."
Chris Chase-Dunn, Sociology, University of California-Riverside
"This book is a treasury of big-picture insight from our leading theorist of the emerging system of global capitalism. Robinson's project – to understand the political economy in order to change it–stands as the preeminent successor to Marx's project from an earlier epoch. For readers perplexed about our changing world and apprehensive about its future, here is your primer and call to action."
Paul Raskin, author of Journey to Earthland
"Robinson's brilliant and courageous research has culminated in this pathfinding work of political reconnaissance that traces capitalism's virulent history, exposes its contradictions, locates its capacity to reorganize and digitally reconfigure itself as the fulcrum upon which the survival of the transnational ruling elite rests, and presents an alternative social logic and transgressive strategies for transcending the proliferation of injustices wrought by the existing social order. A masterpiece!"
Peter McLaren, Distinguished Professor in Critical Studies, Chapman University; Chair Professor, Northeast Normal University, China
"Into the Tempest challenges us to look at the big picture, to examine without blinders the dramatic changes that have re-shaped 21st century capitalism and led to a true crisis of human civilization. Without flinching, it goes on to present theoretical and political analyses that help inform our quest for strategic clarity as we fight for a different world."
Max Elbaum, author of Revolution in the Air: Sixties Radicals Turn to Lenin, Mao and Che
ABOUT THE AUTHOR:
William I. Robinson is professor of sociology at the University of California, Santa Barbara. He worked for a decade prior to entering academia as an investigative journalist in Central America and has lectured widely at universities around the world on the topics of the global economy, international politics, and contemporary world affairs. Among his many award-winning books are: Global Capitalism and the Crisis of Humanity (2014), Latin America and Global Capitalism (2008), and A Theory of Global Capitalism (2004).
RIGHTS INFORMATION:
Please contact subagents for the following languages and territories:
For all other languages/territories, please contact Roam Agency.