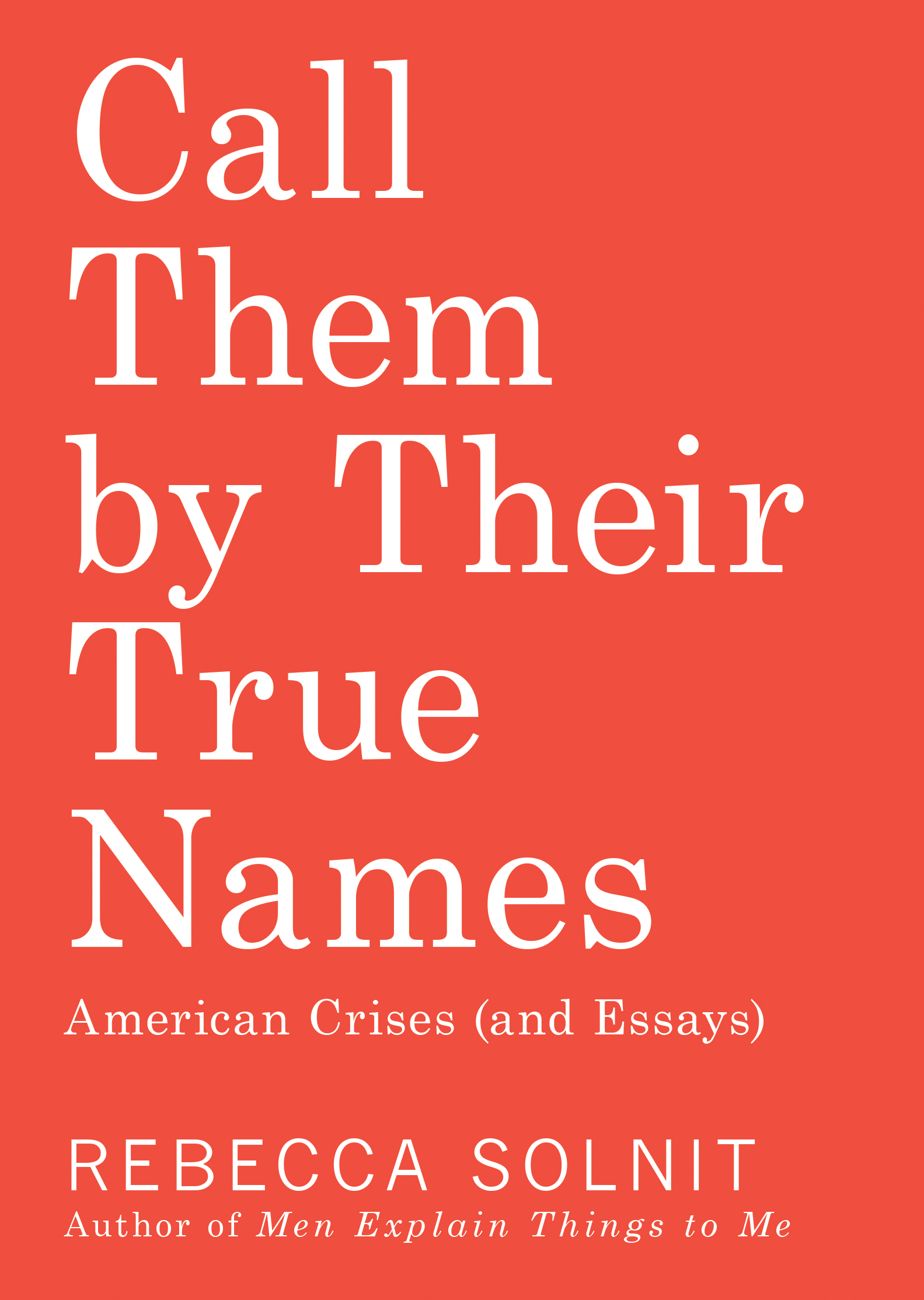 CALL THEM BY THEIR TRUE NAMES
American Crises (and Essays)
Rebecca Solnit
Haymarket Books (September 2018)
Paper • ISBN-13:9781608469468• US $15.95 • 5.5 in x 7.5 in• 188 pgs.
Winner, Kirkus Prize, nonfiction
Nominee, National Book Awards, Nonfiction 
ABOUT THE BOOK:
Changing the world means changing the story, the names, and the language with which we describe it. Calling things by their true names cuts through the lies that excuse, disguise, avoid, or encourage inaction, indifference, obliviousness in the face of injustice and violence.
In this powerful and wide-ranging collection, Solnit turns her attention to battles over meaning, place, language, and belonging at the heart of the defining crises of our time. She explores the way emotions shape political life, electoral politics, police shootings and gentrification, the life of an extraordinary man on death row, the pipeline protest at Standing Rock, and the existential threat posed by climate change.
Rebecca Solnit is the author of the international bestseller Men Explain Things to Me, among other books. Called "the voice of the resistance" by the New York Times, she has emerged as an essential guide to our times, through her incisive commentary on feminism, violence, ecology, hope, and everything in between.
PRAISE:
"Solnit's essay collection is essential reading for anyone living in America today."
Brooklyn Rail
"A searing and super smart call-to-arms."
Poets & Writers
"Solnit [is] a powerful cultural critic: as always, she opts for measured assessment and pragmatism over hype and hysteria."
Publishers Weekly
"Solnit is careful with her words (she always is) but never so much that she mutes the infuriated spirit that drives these essays."
Kirkus Reviews (Starred Review)
"This is precisely what is needed to face our possibly grim future with eyes wide open.'
Shelf Talker
"Rebecca Solnit is a treasure."
Marketplace
"Solnit's exquisite essays move between the political and the personal, the intellectual and the earthy."
ELLE
"Rebecca Solnit is the voice of the resistance."
New York Times Magazine
"No writer has better understood the mix of fear and possibility, peril and exuberance that's marked this new millennium."
Bill McKibben, founder of 350.org
"Rebecca Solnit is essential feminist reading."
New Republic
ABOUT THE AUTHOR:
Writer, historian, and activist Rebecca Solnit is the author of twenty books on feminism, western and indigenous history, popular power, social change and insurrection, wandering and walking, hope and disaster, including a trilogy of atlases and the books The Mother of All Questions, Hope in the Dark, Men Explain Things to Me; The Faraway Nearby; A Paradise Built in Hell: The Extraordinary Communities that Arise in Disaster; A Field Guide to Getting Lost; Wanderlust: A History of Walking; and River of Shadows, Eadweard Muybridge and the Technological Wild West (for which she received a Guggenheim, the National Book Critics Circle Award in criticism, and the Lannan Literary Award).
RIGHTS INFORMATION:
Audio book:
Languages & Territories Where Rights Have Been Sold:
Please contact subagents for the following languages and territories:
| Language/Territory | Subagent |
| --- | --- |
| China, Taiwan, Indonesia, Malaysia, and Vietnam | Big Apple Agency |
| English outside North America | David Grossman Literary Agency |
| German | Paul & Peter Fritz AG Literatur Agentur |
| Greek | Read n' Right Agency |
| Hebrew | The Deborah Harris Agency |
| Italian | The Nabu International Literary Agency |
| Japanese | The English Agency (Japan) Ltd |
| Korean | BC Agency, or Korea Copyright Center |
| Portuguese | RIFF Agency |
| Russia/Baltics/Eastern Europe | Prava I Prevodi |
| Scandinavia: Sweden, Norway, Finland, Denmark, Iceland | Brandt New Agency |
| Spanish in Latin America | International Editors' Co., S.A. |
| Spanish in Spain | International Editors' Co., S.A. |
| Turkish | Anatolialit Agency |
For all other languages/territories, please contact Roam Agency.