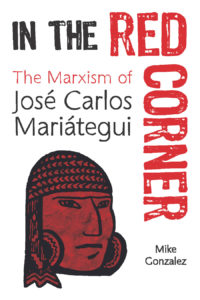 IN THE RED CORNER
The Marxism of José Carlos Mariátegui
Mike Gonzalez
Haymarket Books (Summer 2018, world English rights)
Trade Paper • ISBN-13: 9781608469154 • US $19 • 8.5 in x 5.5 in • 200 pgs.
ABOUT THE BOOK:
The first English-language biography of one of Latin America's most important, innovative, and enduringly relevant Marxist thinkers.
José Carlos Mariátegui (1894–1930) is widely recognized across Latin America as one of the most important and innovative Marxist thinkers of the twentieth century. Yet his life and work are largely unknown to the English-speaking world. In this gripping political biography—the first written in English—Mike Gonzalez introduces readers to the inspiring life and thought of the Peruvian socialist.
As one of the first modern thinkers to discuss what Marxism has to offer, and to learn from, the struggles of Indigenous peoples, his ideas have an immediate relevance in the context of Standing Rock and other native-led fights challenging pipelines across North America
PRAISE:
"José Carlos Mariátegui was the most important and original Latin American revolutionary socialist writing in the 1920s, yet his work is too little known in the rest of the world. Reviled by the Stalinists at the time of his death, his insights into the revolutionary potential of indigenous Andean peasant cultures are assuming a new relevance in the early 21st century. Mike Gonzalez's fine study brings the man and his life-work into sharp focus."
Colin Barker
"It used to be said that Mariategui was the Latin American Gramsci. But today, from a perspective defined by postcolonialism, it might be more pertinent to think of Gramsci as the European Mariategui. Mike Gonzalez's new book offers a vividly detailed, eminently readable account of Mariategui's life and times, with special attention to the formation of his unique form of Marxism. Gonzalez argues that Mariategui remains crucially relevant to the development of forms of struggle and resistance in the Americas within the new framework of globalization."
John Beverley, University of Pittsburgh, author of Latin America after 9/11
ABOUT THE AUTHOR:
Mike Gonzalez is Emeritus Professor of Latin American Studies at the University of Glasgow. He is the co-editor of Arms and the People (Pluto, 2012) and author of Hugo Chavez: Socialist for the Twenty-first Century (Pluto, 2014).
Please contact subagents for the following languages and territories:
For all other languages/territories, please contact Roam Agency.