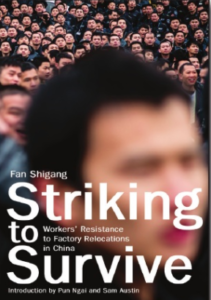 STRIKING TO SURVIVE
Workers' Resistance to Factory Relocations in China
Fan Shigang
Introduction by Pun Ngai and Sam Austin
Haymarket Books (Summer 2018, world English rights)
Trade Paper • ISBN-13: 9781608469093 • US $16.94 • 190 pgs.
ABOUT THE BOOK:
Striking to Survive documents struggles by Chinese workers to hold on to their jobs, pensions,and livelihoods.
Countering the popular myth that Chinese workers are "stealing American jobs," Striking to Survive documents a recent wave of factory closures in China's Pearl River Delta and struggles by workers there to persevere through grave economic insecurity.
The struggles of these workers in China's industrial centers are shaping the future of labor and democracy not only in China but throughout the world. These vivid stories of workers at factories that supply the multinational corporations Walmart and Uniqlo, compiled by worker-activists and circulated underground, provide a unique on-the-ground perspective on the most recent wave of militancy of China's enormous working class.
PRAISE:
"This is a unique book that is a must-read for anyone concerned with the fate of Chinese workers."
Anita Chan, editor of The China Journal
ABOUT THE AUTHOR:
Fan Shigang was born into a family of workers for state-owned enterprises in a northern Chinese city. He has worked as a basic-level employee in several machining factories. He is a contributor to the underground labor periodical Factory Stories, conducting interviews with factory workers in southern China and documenting their lives, work, and struggles.
Please contact subagents for the following languages and territories:
For all other languages/territories, please contact Roam Agency.