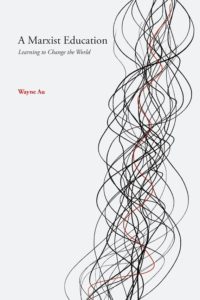 A MARXIST EDUCATION
Learning to Change the World
Wayne Au
Haymarket Books (May 2018, world English rights)
Trade Paper • ISBN-13: 9781608469055 • US $22 • 8.5 in x 5.5 in • 305 pgs
ABOUT THE BOOK:
In A Marxist Education, professor and education activist Wayne Au traces his own development as a Marxist educator as well as the development of radical educational theory. Arguing that dialectical materialism is at the heart of Marxist theory, Au uses dialectics not only to analyze the relationship between capitalism and schools, but also to understand teaching, learning, and curriculum.
PRAISE:
"In A Marxist Education, Wayne Au reveals the method he has applied for years to understand structures of education that have made him one of the most insightful voices nationally in the struggle for education justice. Au boldly illustrates to educators and activists how Marxism is a dynamic tool for resisting the ways schooling has been used to reproduce racism and oppression."
Jesse Hagopian, author of More Than a Score
"Shattering myths and misconceptions about Marxism in every chapter, Wayne Au shows how Marx's method has guided his pathbreaking research on the racial politics of education policy and his work as an activist and organizer for educational justice."
Brian Jones, Associate Director of Education at the Schomburg Center for Research in Black Culture
"Au's purpose is to upend the dogma of common sense, to analyze the educational catastrophe before us and the seeds of the struggles we will need to mount in order to imagine and then enact just schools; his method is dialectical-materialism; his insights are profound and plentiful. The result is an essential book for these times, a weapon to carry to the next school board meeting, the picket line, or the barricades."
Bill Ayers, author of Demand the Impossible! and Teaching Toward Freedom
ABOUT THE AUTHOR:
Wayne Au is a former public high school social studies and language arts teacher and assistant professor in the education program at the University of Washington. He is editor at Rethinking Schools as well as the author and editor of many books, including Critical Curriculum Studies, and Unequal by Design.
Please contact subagents for the following languages and territories:
For all other languages/territories, please contact Roam Agency.