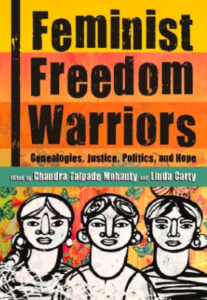 FEMINIST FREEDOM WARRIORS
Genealogies, Justice, Politics, and Hope
Edited by Chandra Talpade Mohanty and Dr. Linda Carty
Haymarket Books (May 2018, world English rights)
Trade Paper • ISBN-13: 9781608468993 • US $18 • 8.5 in x 5.5 in • 190 pgs.
ABOUT THE BOOK:
Feminist Freedom Warriors tells the stories of women of color from the Global South, weaving together cross-generational histories of feminist activism across national borders. These engaging interviews with sister comrades will inform, inspire, and activate the imagination to explore what a just world might look like.
Each woman's story illustrates their lifelong commitment to challenging oppressive practices and forming solidarities across borders to transform unjust structures around the globe. The book features interviews with activists from movements spanning the last seven decades in the United States, India, Mexico, Palestine, Nigeria, South Africa, and beyond.
PRAISE:
"There are some books that will make a genuine difference because they are drawn from the experiences of those who have made a genuine difference. This is one of those books. By offering reflections from, and conversations between, feminist freedom warriors, this book is a reminder of just how much we need revolutionary, decolonial, anticapitalist, and antiracist feminism; how in fighting against structures, we are fighting for our lives. Each of these accounts of becoming and being feminists committed to radical transformation teaches us just how much we can do from what has been done; how we can make use of our imaginations, words, memories, knowledge, feelings, connections, and alliances in the project of building a more just world. This is a deeply inspiring and inspired collection."
Sara Ahmed, author of Living a Feminist Life
"Feminist Freedom Warriors is a provocation and an inspiration. The political and intellectual life stories of an amazing cohort of radical feminist takes us through five decades of dynamic history and spans the globe.Their stories, ideas, fortitude and courage provide a powerful guide to the freedom-making work of the mid 20th through the early 21st centuries. The book is yet another gift of insight and critical feminist praxis from Chandra Talpade Mohanty and Linda Carty, sister-scholars and collaborators whose own collective passion and commitments are also in every page of this collection."
Barbara Ransby, author, historian, activist and President of the National Women's Studies Association, (2016-2018)
"This collection brings together feminist visionaries to think deeply about how we sustain our movements, each other, and ourselves in and through ongoing feminist struggle. Mohanty and Carty's dialogues with the contributors reveal crucial insights into building and theorizing multi-issue movements that rely on intersectional, anti-racist, transnational feminisms. The collaborative endeavor illuminates the persistent intellectual capaciousness and radical hope of these scholar-activists. The contributors' complex engagements with feminist theory and praxis across geopolitical frameworks reaffirm coalitional possibilities so necessary in these turbulent times."
T. Jackie Cuevas, author of Post-Borderlandia
"In Feminist Freedom Warriors liberation is historicized, imagined, and enacted as contested struggle and dialogue. The intellectual-activist thinkers within explain that feminist praxis—poetics, pedagogies, and activism—is an ongoing refusal of global capitalism and colonialism. Comprising stories and interviews, Feminist Freedom Warriors shows that engendering political change, across racial and sexual identifications, is tied to the uneasy work of imagining solidarities outside our present (neoliberal) system of knowledge. What stands out, beautifully and urgently, is the praxis of sharing how to refuse infrastructures of violence. Feminist Freedom Warriors captures how sharing and talking and learning, and the struggle to collaborate, is tied to the grounded work of building new futures."
Katherine McKittrick, Associate Professor, Department of Gender Studies, Queen's University, Ontario
ABOUT THE AUTHORS:
Linda E. Carty is a Black feminist scholar-activist and educator in the Department of African American Studies at Syracuse University. Carty's activist and research work spans Black labor struggles, migration, and sexuality in Canada,the Caribbean, and the United States.
Chandra Talpade Mohanty is a feminist scholar-activist and educator in theDepartment of Women's and Gender Studies at Syracuse University. Mohanty's activism, scholarship, and teaching focus on transnational feminist theory, anti-capitalist feminist praxis, antiracist education, and the politics of knowledge
Please contact subagents for the following languages and territories:
For all other languages/territories, please contact Roam Agency.