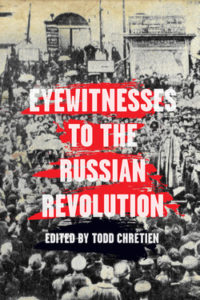 EYEWITNESSES TO THE RUSSIAN REVOLUTION
Edited by Todd Chretien
Haymarket Books (October 2017)
Paper • ISBN-13: 9781608468614 • US $24.00 • 271 pgs.
ABOUT THE BOOK:
One hundred years ago, the Russian Revolution turned the world upside down. Ordinary people took over their factories, farms, regiments, and schools, and set out to build a new society. Selections from testimonials, debates, documents, and memoirs, fill this new reader, bringing to life the voices of men and women who witnessed firsthand the inspiring, heroic, and sometimes tragic story of 1917.
PRAISE:
"The 1917 revolution lifts its voice again in Todd Chretien's sparkling and moving collection. While providing new insights for the historian, Eyewitnesses to the Russian Revolution remains above all easily accessible to those with no prior knowledge."
John Riddell, editor, To the Masses
"In 1918, Rosa Luxemburg wrote, 'Whatever a party could offer of courage, revolutionary far-sightedness, and consistency in an historic hour, Lenin, Trotsky, and all the other comrades have given in good measure.' This new anthology brings readers into the fray as Bolshevik activists and leaders, and their friends and foes, argue and organize over the course of 1917."
Helen Scott, editor, The Essential Rosa Luxemburg
"Readers looking to get a feel for the revolution and its emancipatory project should grab a copy immediately."
Eric Blanc, author, Anti-Colonial Marxism: Oppression & Revolution in the Tsarist Borderlands
"This fast-paced collection brings the debates and drama of the Bolshevik Revolution to life through the voices of leading participants and accidental observers alike. An accessible and informative reader for those who want to learn more about how Lenin and his friends shook the world.
Kevin Murphy, author, Revolution and Counterrevolution: Class Struggle in a Moscow Metal Factory
ABOUT THE AUTHOR:
Todd Chretien is a member of the International Socialist Organization, a frequent contributor to Socialist Worker and the International Socialist Review, and editor of Haymarket Books' edition of State and Revolution by V.I. Lenin (2014).
RIGHTS INFORMATION:
Please contact subagents for the following languages and territories:
| Language/Territory | Subagent |
| --- | --- |
| China, Taiwan, Indonesia, Malaysia, and Vietnam | Big Apple Agency |
| English outside North America | David Grossman Literary Agency |
| German | Paul & Peter Fritz AG Literatur Agentur |
| Greek | Read n' Right Agency |
| Hebrew | The Deborah Harris Agency |
| Italian | The Nabu International Literary Agency |
| Japanese | The English Agency (Japan) Ltd |
| Korean | BC Agency, or Korea Copyright Center |
| Portuguese | RIFF Agency |
| Russia/Baltics/Eastern Europe | Prava I Prevodi |
| Scandinavia: Sweden, Norway, Finland, Denmark, Iceland | Brandt New Agency |
| Spanish in Latin America | International Editors' Co., S.A. |
| Spanish in Spain | International Editors' Co., S.A. |
| Turkish | Anatolialit Agency |
For all other languages/territories, please contact Roam Agency.