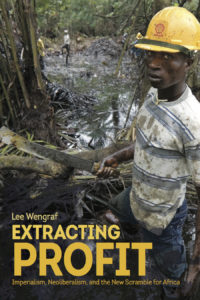 EXTRACTING PROFIT
Imperialism, Neoliberalism, and the New Scramble for Africa
Lee Wengraf
Haymarket Books (March 2018)
Paper • ISBN-13: 9781608468515 • US $19.00 • 340 pgs.
ABOUT THE BOOK:
A piercing historical explanation of poverty and inequality in African societies today and the social impact of resource-driven growth, Extracting Profit explains why Africa, in the first decade and a half of the twenty-first century, has undergone an economic boom. Rising global prices in oil and minerals have produced a scramble for Africa's natural resources, led by investment from U.S., European and Chinese companies, and joined by emerging economies from around the globe. African economies have reached new heights, even outpacing rates of growth seen in much of the rest of the world. Examined through the lens of case studies of the oil fields of the Niger River Delta, the Chad-Cameroon Pipeline and the East African infrastructure boom, this period of "Africa rising" did not lead to the creation of jobs, but has instead fueled the extraction of natural resources, profits accruing to global capital, and an increasingly wealthy African ruling class.
Extracting Profit argues that the roots of today's social and economic conditions lie in the historical legacies of colonialism and the imposition of so-called "reforms" by global financial institutions such as the World Bank and International Monetary Fund. The chokehold of debt and austerity of the late twentieth century paved the way for severe assaults on African working classes through neoliberal privatization and deregulation. And while the scramble for Africa's resources has heightened the pace of ecological devastation, examples from Somalia and the West African Ebola outbreak reveal a frightening surge of militarization on the part of China and the U.S.
Yet this "new scramble" has not gone unchallenged. With accounts of platinum workers' struggles in South Africa, Nigerian labor organizing and pro-democracy upheavals in Uganda and Burkina Faso, Extracting Profit offers several narratives of grassroots organizing and protest, pointing to the potential for resistance to global capital and fundamental change, in Africa and beyond.
PRAISE:
"Lee Wengraf's Extracting Profit provides a breathtakingly detailed account and analysis of some of the major socioeconomic ills that have been plaguing Africa for centuries."
Review of African Political Economy
"The history of resource frontiers everywhere is always one of lethal violence, militarism, empire amidst the forcing house of capital accumulation. Lee Wengraf in Extracting Profit powerfully reveals the contours of Africa's 21st century version of this history. The scramble for resources, markets, and investments have congealed into a frightening militarization across the continent, creating and fueling the conditions for further political instability. Wengraf documents how expanded American, but also Chinese, presence coupled with the "war on terror," point to both the enduring rivalry among global superpowers across the continent and a perfect storm of resource exploitation. Wengraf offers up a magisterial synopsis of the challenges confronting contemporary Africa."
Michael Watts, University of California, Berkeley
"Lee Wengraf's Extracting Profit is at once historical and contemporary. It unpacks ongoing resource crimes by analytically exposing its historical roots and pointing to ways by which the oppressed can cut off the bonds that lock in their subjugation."
Nnimmo Bassey, Director, Health of Mother Earth Foundation
"Extracting Profit provides a great arch of scutiny from the earliest carve-up of the African continent, through colonialism, war, imperialism, to the recent neoliberal take- over. The book demonstrates the continued importance of Marxist analysis on the continent, asserting the centrality of class analysis and a project of revolutionary change. Wengraf provides us with a major contribution, that highlights contemporary developments and the role of China on the African continent that has perplexed and baffled scholars. An indispensable volume."
Leo Zeilig, author of Frantz Fanon: The Militant Philosopher of Third World Revolution
"One of the most well-known stylized facts of Africa's recent growth experience is that it has been inequality-inducing in ways that previous growth spurts were not. Lee Wengraf, in her new book Extracting Profit, expertly utilises the machinery of Marxian class analysis in making sense of this stylized fact. Along the way we learn much about Africa's historical relationship with imperialism and its contemporary manifestations. This book should be required reading for all those who care about Africa and its future."
Grieve Chelwa, Africa Is A Country
"In recent years countries in the African continent have experienced an economic boom—but not all have benefited equally. Extracting Profit is a brilliant and timely analysis that explodes the myth of "Africa Rising," showing how neoliberal reforms have made the rich richer, while leaving tens of millions of poor and working class people behind. Lee Wengraf tells this story within the context of an imperial rivalry between the United States and China, two global superpowers that have expanded their economic and military presence across the continent. Extracting Profit is incisive, powerful, and necessary: If you read one book about the modern scramble for Africa, and what it means for all of us, make it this one."
Anand Gopal, author, No Good Men Among the Living: America, the Taliban, and the War Through Afghan Eyes.
"Extracting Profit is a very important book for understanding why the immense majority of the African population remain pauperised, despite impressive growth rates of mineral-rich countries on the continent. Reading Extracting Profit would be exceedingly beneficial for any change-seeking activist in the labor movement within and beyond Africa."
Baba Aye, Health and Social Services Policy Officer of Public Services International
ABOUT THE AUTHOR:
Lee Wengraf is a writer and activist based in New York City. Her articles have appeared in International Socialist Review, Socialist Worker, Pambazuka News, and the Review of African Political Economy.
RIGHTS INFORMATION:
Please contact subagents for the following languages and territories:
For all other languages/territories, please contact Roam Agency.