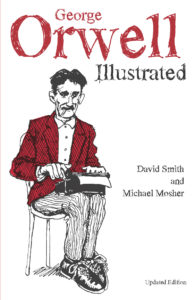 GEORGE ORWELL ILLUSTRATED
David N. Smith
Illustrations by Mike Mosher
Haymarket Books (Spring 2018, world English rights)
Trade Paper • ISBN-13: 9781608467839 • 192 pgs.
ABOUT THE BOOK:
George Orwell is one of the most celebrated of all 20th-century literary figures, yet he is frequently misunderstood, largely because his expositors have seldom fully grasped his sophisticated left-wing anti-Stalinism. This illustrated narrative is uniquely accessible and provides the insight needed to understand Orwell, with the same kind of light touch that Orwell himself adored.
PRAISE:
"An outstanding introduction of George Orwell's politics that has certainly stood the test of time, and the artwork is tremendous."
Socialist Review
ABOUT THE AUTHORS:
David Smith is editing Marx's notes on globalization and non-Western cultures for Yale University Press. The author of Marx's Capital Illustrated (Haymarket, 2014, illustrated by Phil Evans), Smith is a professor and department chair at the University of Kansas.
Artist-adventurer Mike Mosher, Professor of Art/Communication Media Administration, wrote and illustrated two English textbooks published in Japan explaining American youth through rock lyrics; organized community murals in California and Michigan; produced onscreen instructional animation in Silicon Valley, helps edit and produce Bad Subjects: Political Education in Everyday Life.
RIGHTS INFORMATION:
Languages & Territories Where Rights Have Been Sold:
| Language/Territory | Publisher |
| --- | --- |
| Korean/worldwide | Darun |
| Russian/worldwide | Eksmo |
Please contact subagents for the following languages and territories:
For all other languages/territories, please contact Roam Agency.