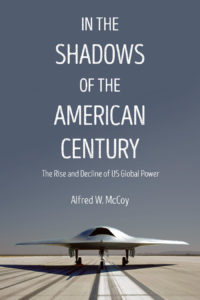 IN THE SHADOWS OF THE AMERICAN CENTURY
The Rise and Decline of US Global Power
Alfred W. McCoy
Haymarket Books (Spring 2017, world English rights)
Trade Paper • ISBN-13: 9781608467730 • US $18.00 • 5 in x 8 in • 280 pgs.
Read: The Future of the American Empire (The Nation, November 2017)
ABOUT THE BOOK:
In a completely original analysis, award-winning historian Alfred McCoy explores America's rise as a world power, from the 1890s through the Cold War and its bid to extend hegemony deep into the twenty-first century through a fusion of cyberwar, space warfare, trade pacts, and military alliances. McCoy then analyzes the marquee instruments of US hegemony—covert interventions, client elites, psychological torture, and worldwide surveillance.
Alfred McCoy's 2009 book Policing America's Empire won the Kahin Prize from the Association for Asian Studies.
PRAISE:
"In the Shadows of the American Century is a valuable contribution to geopolitical discourse that draws important lessons from history."
Foreword Reviews
"[McCoy] persuasively argues for the inevitable decline of the American empire and the rise of China… Let's hope that Americans will listen to his powerful arguments."
Viet Thanh Nguyen, prize-winning author of The Sympathizer
"Alfred McCoy offers a meticulous, eye-opening account of the rise, since 1945, and impending premature demise of the American Century of world domination. As the empire's political, economic, and military strategies unravel under cover of secrecy, America's neglected citizens would do well to read this book."
Ann Jones, author of They Were Soldiers
This book "joins the essential short list of scrupulous historical and comparative studies of the United States as an awesome, conflicted, technologically innovative, routinely atrocious, and ultimately hubristic imperial power."
John Dower, Pulitzer Prize–winning author of Embracing Defeat, War Without Mercy, and The Violent American Century
"Sobering reading for geopolitics mavens and Risk aficionados alike…"
Kirkus
"What is the character of this American empire?" Alfred McCoy asks at the outset of this provocative study. His answer not only limns the contours of the American imperium as it evolved during the twentieth century, but explains why its days are quite likely numbered. This is history with profound relevance to events that are unfolding before our eyes.
Andrew J. Bacevich, author of America's War for the Greater Middle East: A Military History
"While McCoy prefaces his argument by acknowledging the inherent difficulties of prognosticating world events, the case he makes for a precipitous decline in U.S. power over the next decade is compelling. If trends continue, by 2030 the American Century — proclaimed with such confidence not long ago — could be "all over except the finger-pointing."
The Intercept
ABOUT THE AUTHOR:
Alfred McCoy holds the Harrington Chair in History at the University of Wisconsin- Madison. He is author of The Politics of Heroin, the classic study of drug trafficking that the CIA tried to suppress, and In the Shadows of the American Century.
RIGHTS INFORMATION:
Audio book:
Languages & Territories Where Rights Have Been Sold:
Please contact subagents for the following languages and territories:
For all other languages/territories, please contact Roam Agency.