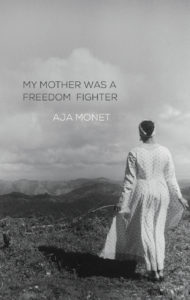 MY MOTHER WAS A FREEDOM FIGHTER
Aja Monet
Haymarket Books (Spring 2017, world English rights)
Trade Paper • ISBN-13: 9781608467679 • US $16.00 • 8 in x 8 in • 120 pgs.
2017 NAACP Image Awards nominee: Outstanding Literary Work–Poetry
WATCH: Resistance and Revolutionary Poetry: Aja Monet, on the Laura Flanders Show (11/14/17)
READ: Feminist poetry is having a renaissance. Here are 3 poets to watch, PBS News Hour (2/2/2018)
ABOUT THE BOOK:
I am 17 and have never killed a man
but i know the face of death as if heirloom
my country memorizes murder as lullaby
—From "For Fahd"

Powerful, poetic meditations on motherhood, sisterhood, spirituality, solidarity, displacement/gentrification, racism, and sexism.
My Mother Was a Freedom Fighter is poet Aja Monet's ode to mothers, daughters, and sisters—the tiny gods who fight to change the world.
Textured with the sights and sounds of growing up in East New York in the nineties, to school on the South Side of Chicago, all the way to the olive groves of Palestine, these stunning poems tackle racism, sexism, genocide, displacement, heartbreak, and grief, but also love, motherhood, spirituality, and Black joy.
PRAISE:
"Thank you, Aja Monet."
Ava Duvernay
"Interesting, powerful, at times challenging poetry."
Roxane Gay
"A triumphant collection."
O Magazine
"Stunning and evocative… fierce and revolutionary."
Publishers Weekly Starred Review
"Intergenerational talismans, pulled from the heart."
Florence Welch
"A bold, intimate and powerful collection of poems."
Ms. Magazine
"Aja Monet's powerful, evocative collection My Mother Was a Freedom Fighter takes readers to poverty-stricken Brooklyn, Chicago's South Side, Palestine, and everywhere in between. Monet's voice is at once fiery and emotionally raw, exposing the struggles faced by those targeted by racism, sexism, police brutality, and domestic violence."
Buzzfeed, "The 13 Best Poetry Books of 2017"
"Aja Monet's writing blazes in these breathtakingly fierce poems."
LitHub
"Generations of women, fighters all, live and breath in Monet's poetry… this book is a torch in the dark."
Frontier Poetry
"A testament to the brilliance of Black women, from the South Side of Chicago and beyond."
Bitch Magazine
"This might be THE single poetry collection I am most excited about this year."
Bustle
"Aja Monet's poetry, like her activism, is one of resistance and reimagining. It resists simplicity, instead opening up new vistas for the reader and new points of entry into perspectives that are largely ignored; she gives voices to the marginalized and forgotten and imagines worlds in which those voices can ring out."
The Los Angeles Review
"My Mother Was a Freedom Fighter turns bodies that have been used as weapons into weapons of liberation. We cannot be contained."
Courage Renewal
"Aja Monet 's poetry offers us textures of feeling and radical shifts of meaning that expand our capacity to envision and fight for new worlds. From Brooklyn, USA to Hebron, Occupied Palestine, we take a feminist journey through rage and serenity, through violence and love, through ancient times and imagined futures. This stunning volume reminds us that conflict and contradiction can produce hope and that poetry can orient us toward a future we may not yet realize we want."
Angela Davis
"We who follow the dynamic poetry of Aja Monet know her to be a wizard of optimism and musicality. My Mother Was A Freedom Fighter reminds us of her wisdom. These poems are made of the black woman genius they praise: "the ghost of women once girls," "mothers who did the best they could," and "daughters of a new day." Monet is a child of old school black power and a daughter of the myriad political traumas of today. Her poetry is indispensable. These poems are fire."
Terrance Hayes, author of How to Be Drawn
ABOUT THE AUTHOR:
Of Cuban-Jamaican descent, Aja Monet is an internationally established poet, performer, singer, songwriter, educator, and human rights advocate. Monet is the youngest person to win the legendary Nuyorican Poet's Café Grand Slam title.
RIGHTS INFORMATION:
Please contact subagents for the following languages and territories:
For all other languages/territories, please contact Roam Agency.