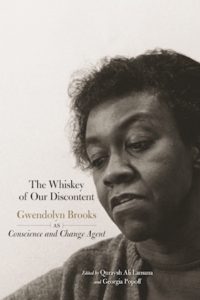 THE WHISKEY OF OUR DISCONTENT
Gwendolyn Brooks as Conscience and Change Agent
Edited by Quraysh Ali Lansana and Georgia Popoff
Foreword by Sonia Sanchez
Haymarket Books (Spring 2017, world English rights)
Trade Paper • ISBN-13: 9781608467631 • US $18.00 • 6 in x 9 in • 220pgs
ABOUT THE BOOK:
Poet, educator and social activist Gwendolyn Brooks was a singular force in American culture.
The first Black woman to be named poet laureate, Brooks' poetry, fiction, and social commentary shed light on the beauty of humanity, the distinct qualities of Black life and community, and the destructive effects of racism, sexism, and class inequality.
A collection of thirty essays combining critical analysis and personal reflection, The Whiskey of Our Discontent, presents essential elements of Brooks' ouevre—on race, gender, class, community, and poetic craft, while also examining her life as a poet, reporter, mentor, sage, activist, and educator.
PRAISE:
"[A] superb tribute…[an] essential collection."
Booklist
ABOUT THE CONTRIBUTORS:

Quraysh Ali Lansana is the author of eight poetry books, two children's books, a book of pedagogy and editor of six anthologies. He teaches writing at the School of the Art Institute of Chicago. Recent titles include The BreakBeat Poets: New American Poetry in the Age of Hip Hop.
Georgia A. Popoff is a poet, educator, editor, whose third collection is Psalter: The Agnostic's Book of Common Curiosities. She coauthored Our Difficult Sunlight: A Guide to Poetry, Literacy, & Social Justice in Classroom & Community, with Quraysh Ali Lansana.
Sonia Sanchez is a poet, playwright, professor, activist, and one of the foremost leaders of the Black Studies movement. She is the author of more than 16 books, and her many honors and awards include the PEN Writing Award, the American Book Award for Poetry, the National Academy of Arts and Letters Award, and the National Education Association Award. She has received the Peace and Freedom Award from the Women's International League for Peace and Freedom, the Langston Hughes Poetry Award, the Robert Frost Medal, the Robert Creeley Award, the Harper Lee Award, and the National Visionary Leadership Award.
RIGHTS INFORMATION:
Audio book:
Please contact subagents for the following languages and territories:
For all other languages/territories, please contact Roam Agency.