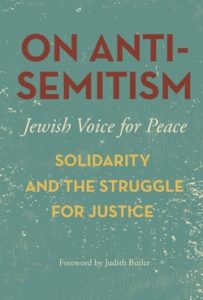 ON ANTISEMITISM
Solidarity and the Struggle for Justice in Palestine
Jewish Voice for Peace
Foreword by Judith Butler
Haymarket Books (Spring 2017, world English rights)
Trade Paper • ISBN-13: 9781608467617 • US $19.95 • 6 in x 9 in • 271 pgs.
ABOUT THE BOOK:
In this illuminating collection of essays curated by Jewish Voice for Peace, a broad range of activists, movement theorists, and public figures engage with critical questions about contemporary antisemitism.
How do we define antisemitism in the present moment? What is the relationship between antisemitism and other forms of bigotry and oppression? How have false charges of antisemitism been used to stifle criticism of Israeli policy and support for Palestinian human rights? This book provides an essential tool for Palestine solidarity activists, teachers, and Jewish communities.
Featuring contributions from Omar Barghouti, Judith Butler, and Rebecca Vilkomerson, as well as other activists, scholars, students, and cultural workers, On Antisemitism includes the voices of those who are often marginalized in mainstream discussions of antisemitism.
PRAISE:
"On Antisemitism…couldn't have come out at a better time…[The book] provides helpful context for this confusing political moment by showing how right-wing apologists for Israel have systematically redefined antisemitism to include anti-Zionism to silence and intimidate advocates for justice in Palestine."
Truthout
"A must-read for all involved in the struggle to build solidarity with the Palestinians today."
Socialist Review
"[T]he old-fashioned forms of Jew-hatred have not disappeared, even as new questions of anti-Semitism, real and imagined, and its uses and misuses become ever more complex. All the better time, then, to continue the discussion and expand it—as this vital book does in a most timely fashion."
Solidarity
ABOUT THE EDITOR:
Jewish Voice for Peace (JVP) is a national, grassroots organization inspired by Jewish tradition to work for a just and lasting peace according to principles of human rights, equality, and international law for all the people of Israel and Palestine. JVP has over 200,000 online supporters, over 60 chapters, a youth wing, a rabbinic council, an artist council, an academic advisory council, and an advisory board made up of leading U.S. intellectuals and artists.
"Jewish Voice for Peace is emerging as one of the most important progressive organizations in the country."
Angela Davis
"Jewish Voice for Peace has been instrumental in unpacking the politicization and misuse of anti-Semitism—a term often deployed to punish advocates of Palestinian liberation. Illustrating that conflation of the Jewish people with the state of Israel is a troublesome proposition, the essays collected here show that a more generous engagement with the politics of Palestine is possible—and necessary. "
Steven Salaita, author of Uncivil Rites: Palestine and the Limits of Academic Freedom
RIGHTS INFORMATION:
Please contact subagents for the following languages and territories:
For all other languages/territories, please contact Roam Agency.