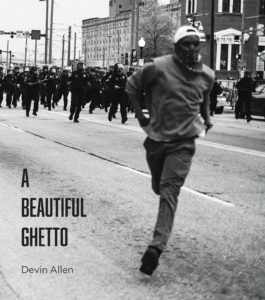 A BEAUTIFUL GHETTO
Devin Allen
Foreword by Keeanga-Yamahtta Taylor
Introduction by D. Watkins
Haymarket Books (Spring 2017, world English rights)
Cloth • ISBN-13: 9781608467594 • US $24.95 • 8 in x 8 in • 60 pgs.
2017 NAACP Image Awards nominee: Outstanding Literary Work–Debut Author
ABOUT THE BOOK:
In April, 2015, Baltimore erupted into mass protests in response to the brutal murder of Freddie Gray while in police custody. Suddenly, the eyes of the world turned to the city. In nearly one hundred stunning black and white photographs, Devin Allen documents the uprising, his city, and the people who live there, revealing a world of love, courage, struggle, and hope. Each image reveals the personality, beauty and spirit of Baltimore and those who live there, as his camera challenges "ghetto" stereotypes. We find smiles where one might least expect them, hope doing battle against a system that sows desperation and fear, and above all, we find resistance to the unrelenting pressures of racism in twenty-first-century America.
PRAISE:
"Devin Allen's photographs paint a picture not only of the protests themselves but also of the ups and downs of everyday life in Baltimore. The collection reenvisions the meaning of the term "ghetto," showing vibrancy within a racially divided city."
NYMag's The Cut
"The cumulative effect of Allen's photographs is of a city that's lively, arresting and—against the odds—undeniably gorgeous."
Mary Carol McCauley, Baltimore Sun
"Allen's work demonstrates a connection between resistance as a daily activity, a way of life in the ghetto, and resistance as a political act, as played out in the streets last spring. He documents resistance without judgment, without asking the usual questions that outsiders might: Is it justified? Is it effective? Is it legal? Resistance is represented not as a tactic, but as a fundamental aspect of life."

The Washington Post
"Reminiscent of the work produced by the late Gordon Parks."
Ebony
"Devin Allen has compiled his poignant and sincere images of the real Baltimoreans who are often mischaracterized or neglected in the city's narrative for his first book. A Beautiful Ghetto captures the essence of the city before, during, and after the Baltimore Uprising."
Baltimore City Paper
"Devin Allen is both a poet and a documentarian. His images capture all of the particular details that make up a life, a time period, a moment. But all of those details add up to something universal—something that all people of all times could understand. A kid squinting underneath the bill of a too-big baseball cap sitting in the dappled shadows dancing off the stoop. In the same way that the details in each individual image add up to create something larger, each of the photographs in A Beautiful Ghetto adds context—conversation—to the others. Haymarket Books did a great job; they beautifully produced the book as a physical object, and stayed out of Allen's way. Three close-up images of a man contorting his face are offset against a young man with one foot on a curb, looking at a makeshift memorial, a teddy bear strapped to a tree, flowers at its base. The black and white images bounce off each other creating multiple narratives, glimpses overlapping—like life in the city."
Baltimore Beat, "The Beat's Top Baltimore Books of 2017"
"Gorgeous."
Cassius
"A Beautiful Ghetto is a visual love letter to Devin Allen's hometown of Baltimore and a chronicle of its 2015 unrest after police killed Freddie Gray."
Colorlines
"Devin Allen's images are live and direct: vital visages of the city's people—many of whom Allen knows personally—and the decaying infrastructure that can barely support them."
Afropunk
ABOUT THE AUTHORS:

Devin Allen, a Baltimore native, is only the third amateur photographer to have their photograph appear on the cover of Time. His work has also been featured in New York Magazine, the Washington Post, the New York Times, CNN, BBC, NBC News, Aperture Magazine, and "Yahoo!." Allen's photographs have been exhibited in the Smithsonian.
Keeanga-Yamahtta Taylor writes on Black politics, social movements, and racial inequality in the United States. Her articles have been published in Souls: A Critical Journal of Black Politics,Culture and Society, Jacobin, New Politics, The Guardian, In These Times, Black Agenda Report, Ms., International Socialist Review, Al Jazeera America, and other publications. Taylor is assistant professor in the department of African American Studies at Princeton University.
D. Watkins is a columnist for Salon. His work has been published in the New York Times, The Guardian, Rolling Stone, and other publications. He holds a master's in Education from Johns Hopkins University and an MFA in Creative Writing from the University of Baltimore. He is a college professor at the University of Baltimore and founder of the BMORE Writers Project. Watkins has been the recipient of numerous awards including Ford's Men of Courage and a BME Fellowship. Watkins is from and lives in East Baltimore. He is the author of The Cook Up: A Crack Rock Memoir and The Beast Side: Living (and Dying) While Black in America.
RIGHTS INFORMATION:
Languages & Territories Where Rights Have Been Sold:
Please contact subagents for the following languages and territories:
For all other languages/territories, please contact Roam Agency.