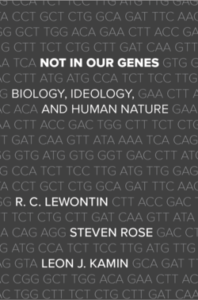 NOT IN OUR GENES
Biology, Ideology, and Human Nature
By Richard C. Lewontin, Steven Rose, and Leon J. Kamin
Haymarket Books (Spring, 2017)
Paper • ISBN-13: 9781608467273 • US $19 • 322 pages
ABOUT THE BOOK:
Not In Our Genes provides a bold and biting critique of biological determinism and sociobiology. In refuting the claim that what individuals can and cannot do is fixed, in essence, by their genetic makeup, the authors offer an important reply to an argument raging far beyond the scientific world and widely affecting our society and our lives. This edition features a new introduction by the authors.
PRAISE:
"Informative, entertaining, lucid, forceful, frequently witty . . . never dull . . . should be read and remembered for a long time."
New York Times Book Review
"The authors argue persuasively that biological explanations for why we act as we do are based on faulty (in some cases, fabricated) data and wild speculation..It is debunking at its best."
Psychology Today
"An important and timely book"
Stephen Jay Gould
"This is a rip-roaring dismantling of the recent rise of biologistic interpretations of why we behave as we do. The three authors are among the most distinguished in their respective fields of expertise—genetics, neuroscience, and psychology. It is, without question, the best book of its kind and should be required reading for every responsible citizen."
Ashley Montagu
ABOUT THE AUTHORS:
Richard C. Lewontin (1929-2021) was an American evolutionary biologist, geneticist, academic and social commentator. A leader in developing the mathematical basis of population genetics and evolutionary theory, he pioneered the application of techniques from molecular biology, to questions of genetic variation. He is the author of The Genetic Basis of Evolutionary Change and Biology as Ideology, and the co-author of The Dialectical Biologist (with Richard Levins).
Steven Rose is emeritus Professor of Biology and Neurobiology at the Open University and Gresham College, London. He established the Brain and Behavior Research Group and has focused his research on understanding the cellular and molecular mechanisms of learning and memory. His research in this area has led to the publication of some 300 research papers and various international honors and medal awards including the Sechenov and Anokhin Medals (Russia) and the Ariens Kappers medal (The Netherlands). In 2002 he was awarded the Biochemical Society medal for excellence in public communication of science.
Leon J. Kamin is an American psychologist known for his contributions to learning theory and his critique of estimates of the heritability of IQ. He studied under Richard Solomon at Harvard and discovered several important facts about conditioning, including the "Kamin Effect" and the "blocking effect." Kamin was blacklisted during the McCarthy era and had to find employment in Canada, where he chaired the Psychology Department at McMaster University in Ontario, Canada. When he was removed from the blacklist in 1968, he returned to the US and chaired Princeton University's Department of Psychology and later the Psychology Department at Northeastern University in Boston, MA.
RIGHTS INFORMATION:
Please contact subagents for the following languages and territories:
For all other languages/territories, please contact Roam Agency.