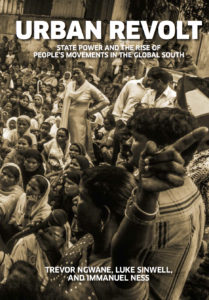 URBAN REVOLT
State Power and the Rise of People's Movements in the Global South
By Trevor Ngwane,  Luke Sinwell, and Immanuel Ness
Haymarket Books (Spring 2016)
Paper • ISBN-13: 9781608467136 • US $19.95 • 210 pages
ABOUT THE BOOK:
Through detailed case studies, Urban Revolt unravels the potential and limitations of urban social movements on an international level.
The urban poor and working class now make up the majority of the world's population. Much of the population growth results from the displacement of rural peasants to mega-cities. The proliferation of informal settlements and slums, particularly in the Global South, have created the conditions ripe for social upheaval as people seek to improve their living conditions and win basic human rights. Drawing from case studies in Africa, Latin America, and Asia, the various chapters in this book map and analyze the ways in which the majority of the world exists and struggles in the contemporary urban context.
PRAISE:
"What emerges from this collection is a complex picture of resistance, which nevertheless provides nuanced hope for a universalist project of social transformation…The result is often a refreshing and accessible journey into urban revolts with which the reader may have less familiarity."
Leo Zeilig, author, African Struggles Today: Social Movements Since Independence
PRAISE FOR THE AUTHORS:
Praise for Ours to Master and to Own (Immanuel Ness):
"Ours to Master and to Own is the most substantive and comprehensive work on workers control and self management today. I strongly recommend this work, which provides examples drawn from throughout the world of workers struggling for justice and power."
Gary Younge, Columnist, The Guardian and The Nation. Author, Who We Are and Should It Matter in the 21st Century 
"The seemingly logical and just idea that workers themselves should make the decisions regarding and reap the benefits of their labor has always been a fraught concept with the potential to topple or reform whole societies … This ambitious, copiously researched and clearly written text provides a sweeping diversity of examples, analyzed with cool detachment from the specific politics but with underlying passion for the larger concept."
Kari Lydersen, author of Revolt on Goose Island: The Chicago Factory Takeover and What it Says About the Economic Crisis
"The beauty of these case studies lies in their rigorous telling by these talented authors. Each city has new tales and lessons for the next generation of urban rebels, as well as for others who have comparative ambitions. I cannot think of a better book in recent years, to pick up those stories with the voices of the participants as well as the clean, cool arguments of analysts who, as Cabral appealed to his own revolutionaries, 'tell no lies and claim no easy victories.'"
Patrick Bond, professor of political economy at the University of the Witwatersrand, author of Looting Africa.
"Read this to be inspired by stories of city-based resistance in some of the most difficult conditions possible."
Socialist Review 
ABOUT THE AUTHORS:
Trevor Ngwane is a scholar activist who is active in the Socialist Group, Democratic Left Front and United Front, organizations that seek a pro-working class pro-poor future for South Africa and the world.
Immanuel Ness is a professor of political science at Brooklyn College of the City University of New York. He has authored and edited of many books including: Southern Insurgency: The Coming of the Global Working Class (Pluto, 2015) and Ours to Master and to Own: Worker Control from the Commune to the Present (Haymarket 2011). Ness is editor of the peer-review quarterly journal, Working USA: The Journal of Labor and Society.
Luke Sinwell is a Senior Researcher with the South African Research Chair in Social Change, University of Johannesburg. He is a co-author of Marikana: A View from the Mountain and a Case to Answer (Jacana 2012, Bookmarks and Ohio University Press 2013) and the co-editor of Contesting Transformation: Popular Resistance in Twenty-First Century South Africa (Pluto Press 2012).
RIGHTS INFORMATION:
Languages & Territories Where Rights Have Been Sold:
Please contact subagents for the following languages and territories:
| Language/Territory | Subagent |
| --- | --- |
| China, Taiwan, Indonesia, Malaysia, and Vietnam | Big Apple Agency |
| English outside North America | David Grossman Literary Agency |
| German | Paul & Peter Fritz AG Literatur Agentur |
| Greek | Read n' Right Agency |
| Hebrew | The Deborah Harris Agency |
| Italian | The Nabu International Literary Agency |
| Japanese | The English Agency (Japan) Ltd |
| Korean | BC Agency, or Korea Copyright Center |
| Portuguese | RIFF Agency |
| Russia/Baltics/Eastern Europe | Prava I Prevodi |
| Scandinavia: Sweden, Norway, Finland, Denmark, Iceland | Brandt New Agency |
| Spanish in Latin America | International Editors' Co., S.A. |
| Spanish in Spain | International Editors' Co., S.A. |
| Turkish | Anatolialit Agency |
For all other languages/territories, please contact Roam Agency.