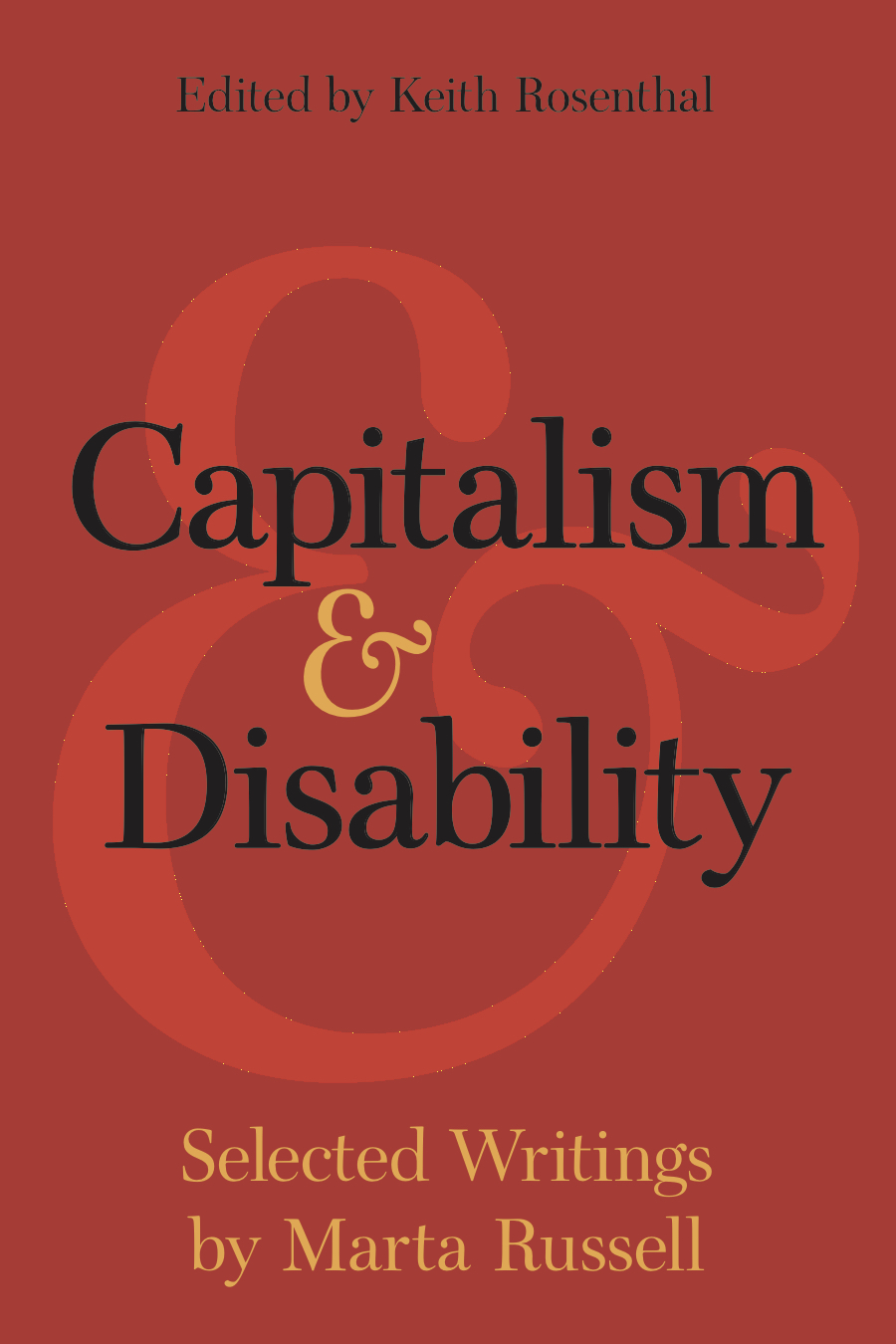 CAPITALISM AND DISABILITY
Essays by Marta Russell
Marta Russell. Edited by Keith Rosenthal
Haymarket Books (Summer 2019)
Trade Paper • ISBN-13: 9781608466863 • US $19.95 • 5.5 in x 8.5 in • 280 pgs.
ABOUT THE BOOK:
Spread out over many years and many different publications, the late author and activist Marta Russell wrote a number of groundbreaking and insightful essays on the nature of disability and oppression under capitalism. In this volume, Russell's various essays are brought together in one place in order to provide a useful and expansive resource to those interested in better understanding the ways in which the modern phenomenon of disability is shaped by capitalist economic and social relations.
The essays range in analysis from the theoretical to the topical, including but not limited to: the emergence of disability as a "human category" rooted in the rise of industrial capitalism and the transformation of the conditions of work, family, and society corresponding thereto; a critique of the shortcomings of a purely "civil rights approach" to addressing the persistence of disability oppression in the economic sphere, with a particular focus on the legacy of the Americans with Disabilities Act of 1990; an examination of the changing position of disabled people within the overall system of capitalist production utilizing the Marxist economic concepts of the reserve army of the unemployed, the labor theory of value, and the exploitation of wage-labor; the effects of neoliberal capitalist policies on the living conditions and social position of disabled people as it pertains to welfare, income assistance, health care, and other social security programs; imperialism and war as a factor in the further oppression and immiseration of disabled people within the United States and globally; and the need to build unity against the divisive tendencies which hide the common economic interest shared between disabled people and the often highly-exploited direct care workers who provide services to the former.
ABOUT THE AUTHOR:
Keith Rosenthal is a socialist writer and activist. He is a frequent contributor to the International Socialist Review magazine on the topics of disability, capitalism, and revolution.
RIGHTS INFORMATION:
Please contact subagents for the following languages and territories:
| Language/Territory | Subagent |
| --- | --- |
| China, Taiwan, Indonesia, Malaysia, and Vietnam | Big Apple Agency |
| English outside North America | David Grossman Literary Agency |
| German | Paul & Peter Fritz AG Literatur Agentur |
| Greek | Read n' Right Agency |
| Hebrew | The Deborah Harris Agency |
| Italian | The Nabu International Literary Agency |
| Japanese | The English Agency (Japan) Ltd |
| Korean | BC Agency, or Korea Copyright Center |
| Portuguese | RIFF Agency |
| Russia/Baltics/Eastern Europe | Prava I Prevodi |
| Scandinavia: Sweden, Norway, Finland, Denmark, Iceland | Brandt New Agency |
| Spanish in Latin America | International Editors' Co., S.A. |
| Spanish in Spain | International Editors' Co., S.A. |
| Turkish | Anatolialit Agency |
For all other languages/territories, please contact Roam Agency.