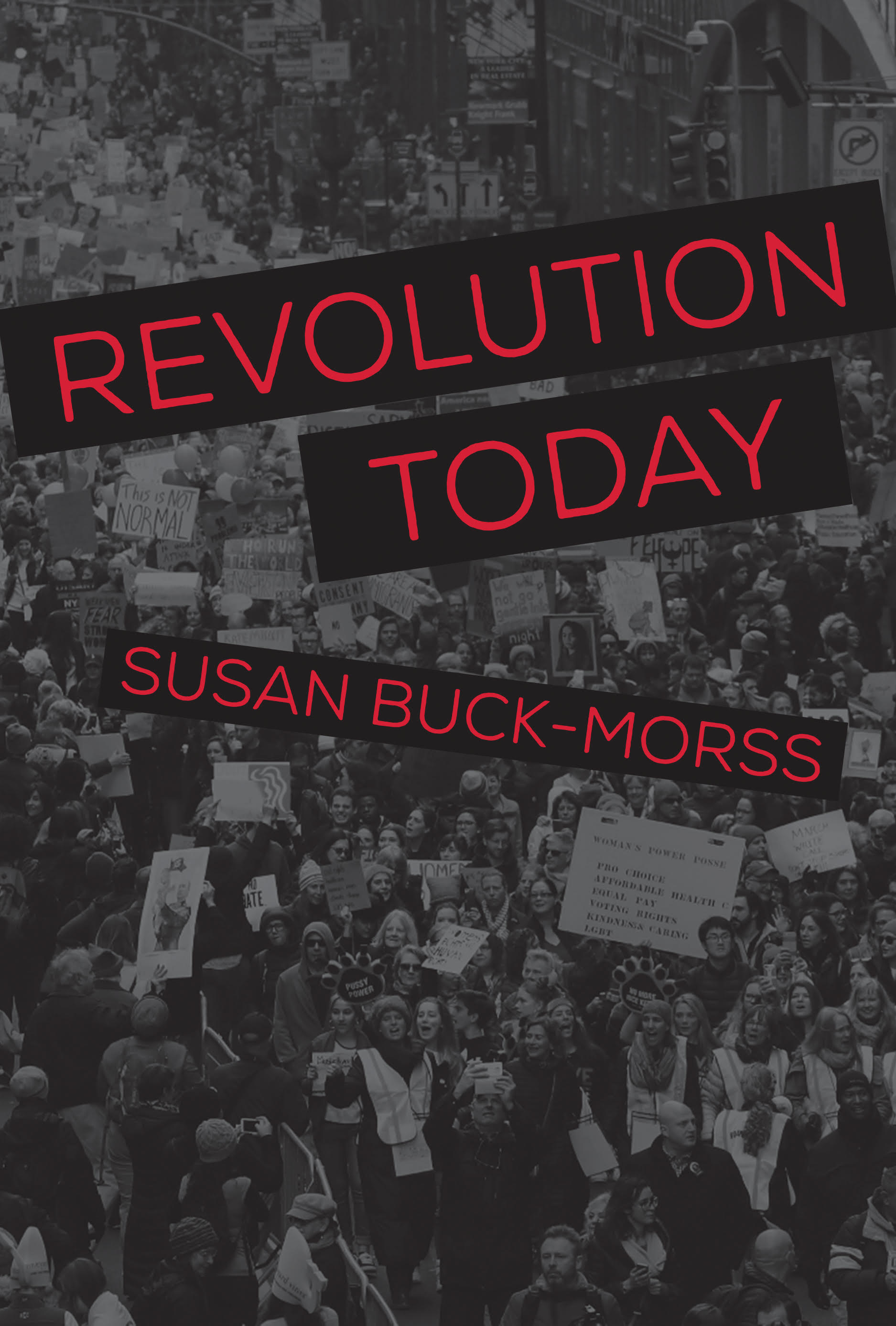 REVOLUTION TODAY
Susan Buck-Morss
Haymarket Books (June 2019)
Trade Paper • ISBN-13: 9781608466795 • US $19.95 • 5.5 in x 8.5 in • 140 pgs.
ABOUT THE BOOK:
Susan Buck-Morss asks: What does Revolution look like today? How will the idea of Revolution survive the inadequacy of the formula: "progress = modernization through industrialization," to which it has owed its political life?
Socialism plus computer technology, citizen resistance plus a global agenda of concerns, revolutionary commitment to practices that are socially experimental and inclusive of difference – these are new forces being mobilized to make another future possible.
Revolution Today celebrates the new political subjects that are organizing thousands of grass-roots movements to fight racial and gender violence, state-led terrorism, and capitalist exploitation of people and the planet worldwide. The 21st century has already witnessed unprecedented popular mobilizations. Unencumbered by old dogmas, mobilizations of opposition are not only happening, they are gaining support, and developing a global consciousness in the process. They are themselves a chain of signifiers, creating solidarity across language, religion, ethnicity, gender, and every other difference.
Trans-local solidarities exist. They came first. The right-wing authoritarianism and anti-immigrant upsurge that has followed is a reaction against the amazing visual power of millions of citizens occupying public space in defiance of state power. They are demanding a society that puts people over corporate profits, protects our common planet, and refuses to cover up the obscene gap between rich and poor with the diversionary tactic of erecting walls of separation among us.
We cannot know how to act politically without seeing others act. This book provides photographic evidence of that fact, while making us aware of how much of the new revolutionary vernacular we already share.
PRAISE:
"Susan Buck-Morss in Revolution Today offers people across the globe a newer way of seeing, knowing, acting, and naming their political engagements. She uses extraordinary images to assist us in articulating newly robust revolutionary imaginings. As always, Susan finds history in the present without its limitations. It's a stunning read for these urgent times."
Zillah Eisenstein, writer, activist, and Professor Emerita of Anti-Racist Feminist Theory, Ithaca College
"Susan Buck-Morss is a researcher who scrutinizes the porous boundaries of the systems of meanings and looks for cracks in the seemingly cohesive modern narration on freedom, emancipation and humanity. She reaches beyond the specialized languages of individual disciplines, on which she draws and which she mixes, and intently observes visual culture."
Political Critique
ABOUT THE AUTHOR:
Susan Buck-Morss is a core faculty member of the CUNY Graduate Center's Committee on Globalization and Social Change. Her trans-disciplinary work in political theory emerges out of a constellation of historical material, visual images, and contemporary events. Her previous books include Hegel, Haiti, and Universal History, which won the Frantz Fanon Prize Book Prize in 2011, Thinking Past Terror: Islamism and Critical Theory on the Left, Dreamworld and Catastrophe: The Passing of Mass Utopia in East and West, The Dialectics of Seeing: Walter Benjamin and the Arcades Project, and The Origin of Negative Dialectics: Theodor W. Adorno, Walter Benjamin and the Frankfurt Institute.
RIGHTS INFORMATION:
Languages & Territories Where Rights Have Been Sold:
| Language/Territory | Publisher |
| --- | --- |
| Spanish/worldwide | Katakrak |
Please contact subagents for the following languages and territories:
For all other languages/territories, please contact Roam Agency.