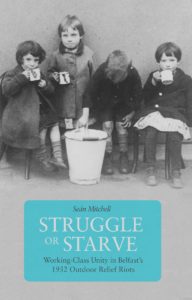 STRUGGLE OR STARVE
Working-Class Unity in Belfast's 1932 Outdoor Relief Riots
By Seán Mitchell
Haymarket Books (Fall 2016)
Paper • ISBN-13: 9781608466788 • US $16.99 • 250 pages
ABOUT THE BOOK:
In October 1932, the streets of Belfast were gripped by vicious and widespread rioting that lasted for the best part of a week. From the 'Green' districts along the Falls to the 'Orange' districts of the Shankill, thousands of unarmed demonstrators pitched battles against heavily-armed police. Unemployed workers and, indeed, entire working-class communities, dug trenches and built barricades to hold off the police assault. The panicked Unionist government imposed a curfew and for a few heady days the question of which side would prevail was up in the air.
The event became known as the Outdoor Relief Riot—one of a very few instances in which class sympathy managed to trump sectarian loyalties in a city famous for its divisions. Deeply researched but written in a clear and popular style, this book tells for the first time the full story and background of this extraordinary episode, revealing hitherto unknown stories of working-class heroism and cross-community solidarity in the process. It provides a detailed and critical account of the unemployment agitation of that year, explaining how the activity of local communists acted as a focal point around which a mass movement of Catholics and Protestants emerged, providing the impetus for a city-wide ferment that shook the state to its core and brought the government to its knees. Finally, the book engages with the politics of the period, and examines the lessons it holds for socialist politics today.
PRAISE:
"Mitchell's is by far the most thorough and well researched account yet of a few weeks in Irish history which shook the ruling Unionist Government probably more deeply than any other single event, or sequences of events until 1968."
Geoff Bell, History Ireland
"The ultimate message of this timely and absorbing book – that a class-based politics has operated in Northern Ireland, and thus might operate again – is in itself a useful reminder that the past can, given half a chance, offer lessons for the future."
Irish Times
"In October 1932, Belfast's sectarian divisions were transcended by class politics. Sean Mitchell's book Struggle or Starve had a fascinating account of what became known as the 'relief riots', Catholic and Protestant workers coming together to protest against a harsh state relief programme. Shared need, albeit briefly, eclipsed religious divisions."
Belfast Telegraph
"Struggle or Starve by Seán Mitchell is an important book that deserves the widest readership among those interested in promoting progressive politics in the North of Ireland. Best of all though, this book provides a rich but readable text to stimulate the necessary discussion, debate and deliberations that socialists and republicans must have rich but readable text to stimulate the necessary discussion, debate and deliberations that socialists and republicans must have."
Irish Marxist Review
"This is an important story to tell, part of our lost history. It shows that the interests workers share far outweigh the artificial divisions of sectarianism. It is brilliant that Seán Mitchell has brought these great events backs to life. It will be an inspiration to unite again in today's struggles."
Ken Loach
"All the binary stereotypes of Belfast's history are challenged in this extraordinary account of how a small group of working-class Communists led an uprising of tens of thousands of Protestant and Catholic unemployed in October 1932. As Séan Mitchell so vividly shows, the Outdoor Relief Movement shook the sectarian Northern Ireland statelet to its very foundation."
Mike Davis, author, Late Victorian Holocausts
"What happened in Belfast in 1932 contradicts just about everything conventional history tells us about relations between Catholics and Protestants in the North. Only a decade into the existence of the new state, the plain people of the Shankill and the Falls linked arms to fight on picket lines and in the streets for common working-class interests. The events have either been written out of history or sentimentalized so as to drain them of all political relevance. The lesson drawn by Séan Mitchell from the tumult of the time is that the North sloughs off sectarianism when people come together on a basis which has nothing to do with the community they come from but everything to do with the class they belong to. Only class politics offers a practical alternative to communal division. This is history from below, raucous, sprawling, unconstrained by the imposition of an Orange/Green paradigm on events which arose from an entirely different aspect of Belfast's social being, bristling with intimations of a different way of political life. If the North is ever to deal with the past in a way which doesn't divide us further, we must bring the Belfast of 1932 back into focus. Séan's book makes a major contribution to this vital work."
Eamonn McCann, civil rights veteran, and author of War and an Irish Town
"This book will make a huge contribution to the debate about the future for politics in the North of Ireland and elsewhere. As we face increasingly turbulent times and a discredited Stormont regime in the North, Seán's book shows a different type of politics is possible, one that is very much part of our shared history and socialist traditions. Across Ireland and internationally we can all draw on this story and learn lessons for today."
Bríd Smith, Member of the Irish Parliament
"Mitchell's book is an outstanding testimony to the centrality of united working class struggle, just as relevant today in the light of the Good Friday power sharing agreement which has institutionalised the sectarian divide."
Socialist Review
"Seán Mitchell, in crisp prose and with an eye for telling details, provides a gripping account of events in Belfast in October 1932."
An Phoblacht
ABOUT THE AUTHOR:
Seán Mitchell is a socialist activist based in Belfast. A founding member of People Before Profit, he was the first person to stand for election under the party's banner. He currently lives in Andersonstown in West Belfast, and works in Coláiste Feirste. He writes for the Irish Marxist Review.
RIGHTS INFORMATION:
Please contact subagents for the following languages and territories:
For all other languages/territories, please contact Roam Agency.