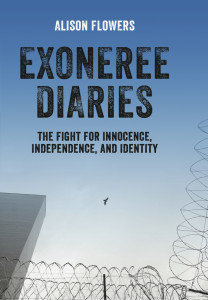 EXONEREE DIARIES: The Fight for Innocence, Independence, and Identity
By Alison Flowers
Haymarket Books (April 2016)
Paper • ISBN-13: 9781608466757 • US $17.95 • 280 pages
ABOUT THE BOOK:
Through intimate portraits of four exonerated prisoners, investigative journalist Alison Flowers explores what happens to innocent people when the state flings open the jailhouse door and tosses them back, empty-handed, into the unknown.
From the front lines of the wrongful conviction capital of the United States—Cook County, Illinois—investigative journalist Alison Flowers recounts profoundly human stories of reclaiming life, overcoming adversity, and searching for purpose after exoneration.
As she tells each exoneree's powerful story, Flowers vividly shows that release from prison, though sometimes joyous and hopeful, is not a Hollywood ending—or an ending at all. Rather, an exoneree's first unshackled steps are the beginning of a new journey full of turmoil and uncertainty. Flowers also sheds new light on the collateral damage of wrongful convictions on families and communities, challenging deeper problems of mass incarceration and the criminal justice system.
.
PRAISE:
"No author has covered the years after exoneration with the same depth as Flowers does in this disturbing book. She ably shows that even under the best of circumstances, exonerees struggle with family relationships, job searches, recovery from prison-related health problems, adjustments to new technologies, and more. Exoneree Diaries is a thoroughly researched, provocative book of justice gone wrong."
Kirkus
"Exoneree Diaries is a powerful, truthful and compelling read for anyone who is interested in the world of wrongful convictions. Alison Flowers has reached into the heart of these exonerees to share their joys, triumphs and sorrows. She is perhaps the first author to delineate the deep agony experienced by exonerees after their freedom has been won."
Gloria Killian, exoneree and author of Full Circle: A True Story of Murder, Lies, and Vindication
"Through these searing portraits, readers will witness the fissures in the criminal justice system and the damage they cause to the wrongfully convicted, their families, and their communities."
Publishers Weekly
"At least 2.3 percent of the millions imprisoned in America did not commit the crimes for which they were convicted. Alison Flowers is the rare journalist who does not allow the people treated as collateral damage in the era of mass incarceration to remain invisible."
Spencer Ackerman, US national security editor for The Guardian
"This book not only chronicles the struggles after freedom, but its subtext asks, to what extent does society owe them something?"
Foreword Reviews
ABOUT THE AUTHOR:
Alison Flowers is an award-winning investigative journalist who focuses on social and criminal justice. Her yearlong multimedia series about exonerees for Chicago Public Media and NPR affiliate WBEZ was a finalist for a national Online Journalism Award in 2014. A former TV reporter, Flowers has also written for the Village Voice, VICE News, and others. She is a Social Justice News Nexus fellow and works at the Invisible Institute, a journalism production company on the South Side of Chicago.
RIGHTS INFORMATION:
Please contact subagents for the following languages and territories:
For all other languages/territories, please contact Roam Agency.