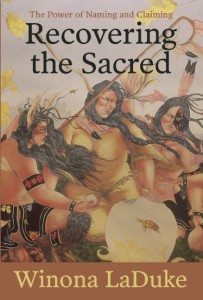 RECOVERING THE SACRED
The Power of Naming and Claiming
(Second Edition)
By Winona LaDuke
Haymarket Books (2015)
Paper • ISBN-13: 9781608466276 • US $20 • 294 pages
ABOUT THE BOOK:
Recovering the Sacred is a seminal work with a wealth of research and hundreds of interviews with indigenous scholars and activists, from a leading Native American historian.
Under what conditions can traditional beliefs be best practiced? Only the power to define what is sacred—and access it—will enable Native American communities to remember who they are. The indigenous imperative to honor nature is constantly undermined by federal laws approving resource extraction through mining and drilling. Formal protections exist for Native American religious expression, but not for the places and natural resources integral to ceremonies. Winona LaDuke examines the connections between sacred objects and the sacred bodies of her people—past, present and future.
PRAISE:
"Through the voices of ordinary Native Americans, writer and full-time activist Winona LaDuke is able to transform highly complex issues into stories that touch the heart."
Roxanne Dunbar-Ortiz, author of Indigenous People's History of the United States
"In this powerful book, LaDuke explores issues that go way beyond the desecration of the environment and into the heart of insidious crimes against the very DNA of Native peoples."
Amy Ray, musician/activist
"A fascinating read that puts Native American communities struggle for justice into historical and environmental context. Winona's fierce dedication to the indigenous environmental and women's movement infuse her analysis with a first-person understanding—deep and powerful on many levels. Winona's fierce dedication to the indigenous environmental and women's movement infuses her analysis with a first-person understanding—deep an powerful on many levels."
Bonnie Raitt, musician/activist
"A damning account of current and past injustices committed against the indigenous tribes of North America… [LaDuke] uses a combination of personal testimony and interviews mixed with historical research and government records to make the case that racism and stealing is still occurring, but in new forms such as biopiracy and historical revisionism."
Race and Place
"No ragtag remnants of lost cultures here. Strong voices of old, old cultures bravely trying to make sense of an Earth in chaos."
Whole Earth
ABOUT THE AUTHOR:
Winona LaDuke became involved with Native American environmental issues after meeting Jimmy Durham, a well-known Cherokee activist, while she was attending Harvard University. At the age of 18, she spoke in front of the United Nations regarding Native American rights and has since become one of the most prominent voices for American Indian economic and environmental concerns throughout the United States and internationally. She is an Anishinaabekwe (Ojibwe) enrolled member of the Mississippi Band Anishinaabeg, who lives and works on the White Earth Reservations. LaDuke is the Executive Director of the White Earth Land Recovery Project and Honor the Earth, where she works on a national level to advocate, raise public support, and create funding for frontline native environmental groups. In 1994, Winona was named by TIME magazine as one of America's fifty most promising leaders under forty years of age. In both 1996 and 2000 she was Ralph Nader's running mate in his Presidential campaigns, appearing on the Green Party ticket. A graduate of Harvard and Antioch Universities, Winona has written extensively on Native American and environmental issues. She is a former board member of Greenpeace USA and serves as co-chair of the Indigenous Women's Network, a North American and Pacific indigenous women's organization. She is the author of six books, including The Militarization of Indian Country (2011); Recovering the Sacred: the Power of Naming and Claiming (2005); the non-fiction book All our Relations: Native Struggles for Land and Life (1999, South End Press); and a novel—Last Standing Woman (1997, Voyager Press), LaDuke continues to spread her message and is arguably the most well-respected authority on Native American culture in the world.RIGHTS INFORMATION:
Please contact subagents for the following languages and territories:
For all other languages/territories, please contact Roam Agency.