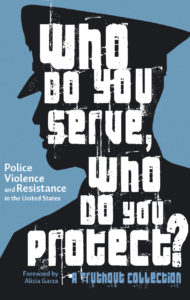 WHO DO YOU SERVE, WHO DO YOU PROTECT?
Police Violence and Resistance in the United States
Edited by Maya Schenwar, Joe Macaré, and Alana Yu-lan Price Introduction by Alicia Garza. A Truthout Book.
Haymarket Books (June 2016)
Paper • ISBN-13: 9781608466122 • US $18 • 207 pages
ABOUT THE BOOK:
What is the reality of policing in the United States? Do the police keep anyone safe and secure other than the very wealthy? How do recent police killings of young black people in the US fit into the historical and global context of anti-Blackness?
This collection of reports and essays (the first from Truthout in collaboration with Haymarket Books) explores police violence against black, brown, indigenous and other marginalized communities, miscarriages of justice, and failures of token accountability and reform measures. It also makes a compelling and provocative argument against calling the police.
Contributions cover a broad range of issues including the killing by police of black men and women, police violence against Latino and indigenous communities, the treatment of pregnant women and people with mental illness by law enforcement, and the impact of racist police violence on parenting, as well as specific stories such as a Detroit police conspiracy to slap murder convictions on young black men using police informants, and the failure of Chicago's much-touted Independent Police Review Authority, the body supposedly responsible for investigating police misconduct.
Contributors include William C. Anderson, Candice Bernd, Aaron Cantú, Thandi Chimurenga, Ejeris Dixon, Kelly Hayes, Rachel Herzing, Adam Hudson, Victoria Law, Mike Ludwig, Sarah Macaraeg, Andrea Ritchie, and Roberto Rodriguez.
PRAISE
"Would some communities be safer without police? That's the question at the heart of Who Do You Serve, Who Do You Protect?, a collection of essays and reportage penned by some of Truthout's most compelling and enlightened thinkers—including #BlackLivesMatter co-founder Alicia Garza. With heartbreaking, glass-sharp prose, the book catalogs the abuse and destruction of black, native, and trans bodies. And then, most importantly, it offers real-world solutions."

Chicago Review of Books
"Who Do You Serve, Who Do You Protect? is an urgently necessary book, one that deepens and complicates thinking around police violence without waiting for a fresh on-camera brutality to restart the national conversation."
New City
"This brilliant collection of essays, written by activists, journalists, community organizers and survivors of state violence, urgently confronts the criminalization, police violence and anti-black racism that is plaguing urban communities. It is one of the most important books to emerge about these critical issues: passionately written with a keen eye towards building a world free of the cruelty and violence of the carceral state."
Beth Richie, author of Arrested Justice: Black Women, Violence, and America's Prison Nation
"Who Do You Serve, Who Do You Protect? is a powerful collection of essays by organizers, legal activists and progressive journalists that take us beyond the 'few bad apples' theory of police violence, insisting that we interrogate the essential role and purpose of police and policing in our society. These writers have highlighted some of the critical questions that the anti-state violence movement is wrestling with."
Barbara Ransby, author of Ella Baker and the Black Freedom Movement: A Radical Democratic Vision
"This timely and essential set of essays written by activists, organizers and journalists offers a window into our particular historical moment centered on an ongoing struggle against state violence. As a long-time organizer immersed in the current Movement for Black Lives, I read the contributions hoping to learn and to be inspired. I found the essays to be informative, illuminating and challenging. The book covers topics ranging from police torture and the fight for accountability to how we might best engage in transformative organizing that could lead to a word without police. I cannot recommend this anthology any more highly. It's an indispensable primer for anyone who wants to understand the current rebellions and uprisings against police impunity."

Mariame Kaba, founder and director of Project NIA
ABOUT THE AUTHORS:
Alicia Garza is a writer and Oakland-based activist. Garza is one of the co-founders of Black Lives Matter, an organization founded in 2013 after the shooting death of Florida teen Trayvon Martin.
Maya Schenwar is Truthout's editor-in-chief and the author of Locked Down, Locked Out: Why Prison Doesn't Work and How We Can Do Better. Her work has appeared in Truthout, The New York Times, The Guardian, The Nation, Salon, Mother Jones, Ms. Magazine and elsewhere.
Joe Macaré is Truthout's Publisher. He has written multiple articles published at Truthout and elsewhere.
Alana Yu-lan Price is Truthout's content editor. She has written multiple articles in Tikkun Magazine, the Chicago Defender and Madison Times.
RIGHTS INFORMATION:
Audio book:
Please contact subagents for the following languages and territories:
For all other languages/territories, please contact Roam Agency.