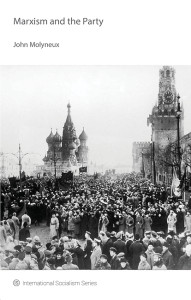 MARXISM AND THE PARTY
(Second Edition)
By John Molyneux
Haymarket Books (July 2016)
Paper • ISBN-13: 9781608465729 • 192 pages
ABOUT THE BOOK:
In this book, John Molyneux examines the contributions made by Karl Marx and Frederick Engels, Vladimir Lenin, Rosa Luxemburg, Leon Trotsky and Antonio Gramsci. Molyneux takes as his central theme the concern of these revolutionaries with the relationship between the party and the working class.
ABOUT THE AUTHOR:
John Molyneux is a British Trotskyist, academic and author. He has been a leading member of the Socialist Workers Party before retiring to Ireland, where he became active in the Irish SWP.
RIGHTS INFORMATION:
Please contact subagents for the following languages and territories:
For all other languages/territories, please contact Roam Agency.