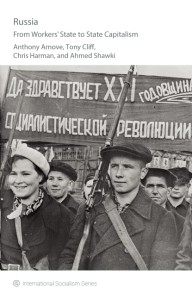 RUSSIA
From Worker's State to State Capitalism
Second Edition
By Anthony Arnove, Tony Cliff, Ahmed Shawki, and Chris Harman
Haymarket Books (June 2016)
Paper • ISBN-13: 9781608465453 • 174 pages
ABOUT THE BOOK:
To millions throughout the world, the Russian workers' state offered new hope. People everywhere turned from the grim alternatives of a declining capitalism—unemployment, poverty, the threat of new wars—to place their hopes in the government that the soviets, councils of working people, put into power in Russia.
ABOUT THE AUTHORS:
Anthony Arnove produced the Academy Award-nominated documentary Dirty Wars and wrote, directed, and produced The People Speak with Howard Zinn. He is the editor of several books, including Voices of a People's History of the United States, which Arnove co-edited with Zinn, The Essential Chomsky, and Iraq Under Siege, and is the author of Iraq: The Logic of Withdrawal. He is on the editorial boards of Haymarket Books and the International Socialist Review.

Tony Cliff was a lifelong organizer within the international socialist movement. His groundbreaking work established the unique interpretation of the Soviet Union as a bureaucratic, state-centered version of capitalism, rather than a workers' state. His many works include State Capitalism in Russia and the volume that follows-up from this book, All Power to the Soviets, about Lenin's political leadership from 1914 to 1917.
Ahmed Shawki is the editor of the International Socialist Review and the author of Black Liberation and Socialism.
Chris Harman (1942–2009) was a leading member of the Socialist Workers Party (UK) and the editor of the newspaper, Socialist Worker for many years. He was the author of many books, articles and pamphlets, including A People's History of the World, Class Struggles in Eastern Europe, The Fire Last Time: 1968 and After, Economics of the Madhouse, How Marxism Works, and Zombie Capitalism.
RIGHTS INFORMATION:
Please contact subagents for the following languages and territories:
For all other languages/territories, please contact Roam Agency.