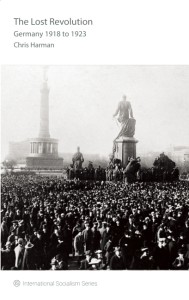 THE LOST REVOLUTION
Germany 1918 to 1923
(Second Edition)
By Chris Harman
Haymarket Books (July 2016)
Paper • ISBN-13: 9781608465392 • 335 pages
ABOUT THE BOOK:
The swastika first entered modern history in the uniforms of the German counterrevolutionary troops of 1918 to 1923—and because of the defeat in Germany, Russia fell into the isolation that gave Stalin his road to power. Here, Chris Harman unearths the history of the lost revolution in Germany, and reveals its lessons for the future struggles for a better world.
PRAISE FOR THE AUTHOR:
"Zombie Capitalism is both timely and hugely valuable. . . . This book is an essential read."
—Socialist Review
ABOUT THE AUTHOR:
Chris Harman (1942–2009) was a leading member of the Socialist Workers Party (UK) and the editor of the newspaper, Socialist Worker for many years. He was the author of many books, articles and pamphlets, including A People's History of the World, Class Struggles in Eastern Europe, The Fire Last Time: 1968 and After, Economics of the Madhouse, How Marxism Works, and Zombie Capitalism.
RIGHTS INFORMATION:
Please contact subagents for the following languages and territories:
For all other languages/territories, please contact Roam Agency.