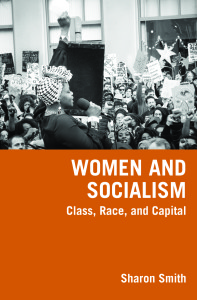 WOMEN AND SOCIALISM
Class, Race, and Capital
By Sharon Smith
Haymarket Books (2015, world English rights)
Paper • ISBN-13: 9781608461806 (Previous ISBN: 9781931859110) • US $16 • 7.0 in x 5.0 in • 150 pgs.
ABOUT THE BOOK:
More than forty years after the women's liberation movement of the 1960s, women remain without equal rights. If anything, each decade that has passed without a fighting women's movement has seen a rise in blatant sexism and the further erosion of the gains that were won in the 1960s and 1970s. Yet liberal feminist organizations have followed the Democratic Party even as it has continually tacked rightward since the 1980s.
This fully revised edition examines these issues from a Marxist perspective, focusing on the centrality of race and class. It includes chapters on the legacy of Black feminism and other movements of women of color and the importance of the concept of intersectionality. In addition, Women and Socialism: Class, Race, and Capital explores the contributions of socialist feminists and Marxist feminists in further developing a Marxist analysis of women's oppression amid the stirrings of a new movement today.
PRAISE:
"An excellent resource for anyone concerned with women's liberation and an antidote to the mystification which permeates gender politics today. Its attention to the oppressions visited on women generally-the denial of abortion rights and the dead hand of organized religion-make it a fresh and immediate read. It very effectively arms us with the necessary arguments and ideas to set about this business of ending women's oppression."
Socialist Democracy
"Sharon Smith's work, spanning decades of events affecting women, provides a valuable and uncommon perspective on the oppression and liberation of women. The book covers both theory of women's oppression and the history and politics of women's movements. Her understanding of the grounding of women's oppression in class society, her vision of solidarity among women and men, and her critique of ideologies of sexism and the rollback of the gains of the women's movement are tremendously important contributions to women's studies. More than that, the accessible writing and incisive assessment of the movements gains and losses are indispensable for activists for women's liberation today."
Dana Cloud, Associate Professor, University of Texas, Austin
ABOUT THE AUTHOR:
Sharon Smith is the author of Subterranean Fire: A History of Working Class Radicalism in the United States (Haymarket, 2006), as well as numerous articles on women's liberation and the politics of the U.S. working class. She is a regular contributor to Socialist Worker newspaper and the International Socialist Review. Her work has also appeared in the journal Historical Materialism, as well as in the collections Iraq Under Siege: The Deadly Impact of Sanctions and War and Women and the Revolution. She lives in Chicago, Illinois.
OTHER TITLES BY THIS AUTHOR:
Subterranean Fire: A History of Working-Class Radicalism in the United States
RIGHTS INFORMATION:
Languages & Territories Where Rights Have Been Sold:
| Language/Territory | Publisher |
| --- | --- |
| Turkish/worldwide | Yordam |
Please contact subagents for the following languages and territories:
| Language/Territory | Subagent |
| --- | --- |
| China, Taiwan, Indonesia, Malaysia, and Vietnam | Big Apple Agency |
| English outside North America | David Grossman Literary Agency |
| German | Paul & Peter Fritz AG Literatur Agentur |
| Greek | Read n' Right Agency |
| Hebrew | The Deborah Harris Agency |
| Italian | The Nabu International Literary Agency |
| Japanese | The English Agency (Japan) Ltd |
| Korean | BC Agency, or Korea Copyright Center |
| Portuguese | RIFF Agency |
| Russia/Baltics/Eastern Europe | Prava I Prevodi |
| Scandinavia: Sweden, Norway, Finland, Denmark, Iceland | Brandt New Agency |
| Spanish in Latin America | International Editors' Co., S.A. |
| Spanish in Spain | International Editors' Co., S.A. |
| Turkish | Anatolialit Agency |
For all other languages/territories, please contact Roam Agency.