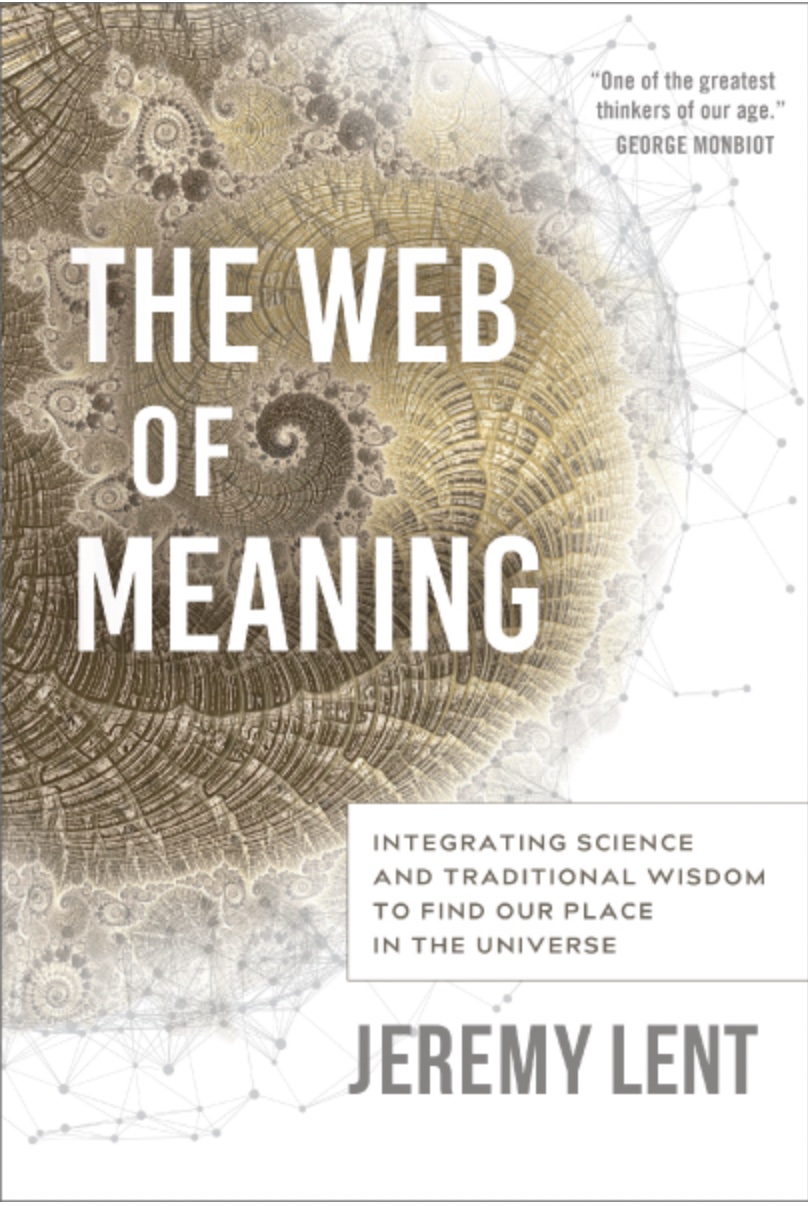 THE WEB OF MEANING
Integrating Science and Traditional Wisdom to Find Our Place In the Universe
Jeremy Lent
New Society Publishers (July 1, 2021)
Hardcover • ISBN-13: 9780865719545 • US $34.99 • 15 in x 22 in • 464 pgs.
ABOUT THE BOOK:
As our civilization careens toward climate breakdown, ecological destruction, and gaping inequality, people are losing their existential moorings. The dominant worldview of disconnection, which tells us we are split between mind and body, separate from each other, and at odds with the natural world, has been invalidated by modern science.
Award-winning author, Jeremy Lent, investigates humanity's age-old questions – Who am I? Why am I? How should I live? – from a fresh perspective, weaving together findings from modern systems thinking, evolutionary biology, and cognitive neuroscience with insights from Buddhism, Taoism, and Indigenous wisdom.
The result is a breathtaking accomplishment: a rich, coherent worldview based on a deep recognition of connectedness within ourselves, between each other, and with the entire natural world. It offers a compelling foundation for a new philosophical framework that could enable humanity to thrive sustainably on a flourishing Earth.
The Web of Meaning is for everyone looking for deep and coherent answers to the crisis of civilization.
PRAISE:
"One of the most brilliant and insightful minds of our age, Jeremy Lent has written one of the most essential and compelling books of our time. The Web of Meaning invites us to rethink at the deepest level who we are as a species and what we might become."

David Korten, author, When Corporations Rule the World and The Great Turning: From Empire to Earth Community
"The Web of Meaning is both a profound personal meditation on human existence and, as its title implies, a tour-de-force weaving together of historic and contemporary world-wide secular and spiritual thought on the deepest question of all: why are we here?"
Gabor Maté M.D., author, In The Realm of Hungry Ghosts: Close Encounters With Addiction
"We need, now more than ever, to figure out how to make all kinds of connections. This book can help-—and therefore it can help with a lot of the urgent tasks we face."
Bill McKibben, author, Falter: Has the Human Game Begun to Play Itself Out?
"The Web of Meaning is a book of radical and profound wisdom. We are in a desperate need of an inspiring and an integrated new worldview, appropriate for the Age of Ecology. This book adequately answers that need. This book is a magnificent manifesto for a regenerative culture and for an ecological civilisation. Jeremy is showing us a way out of the old story of separation and disconnection. He leads us towards a new story of interconnection. The book beautifully addresses some of the most complex questions of life. I found the book like a friend and a companion in the journey of transformation."
Satish Kumar, Editor Emeritus, Resurgence & Ecologist and Founder of Schumacher College.
"There are so many ways to understand the world, and so many levels to be integrated, that everyone can use the guidance of Jeremy Lent. Moving from the ancient Tao to modern neuroscience and everything in between, he boldly weaves deep insights together to envision a better world."
Frans de Waal, author, Mama's Last Hug: Animal Emotions and What They Tell Us about Ourselves
"A widely ranging, deeply penetrating, and healingly prescriptive consideration of how to reposition humanity within the world. Lent's ideas, drawn from all around the globe from antiquity to the present, provide a vision for a better shot at survival and a life that is worthwhile for our time—and for the rest of time."
Carl Safina, author, Beyond Words and Becoming Wild
"It is hard to build new regenerative narratives that honor the old without being in extractive relation to non-western lands and peoples, but this book is a damn good start. This book is a good place to sit for anybody interested in binding the wounds of thoughtless progress and allowing the emergence of new patterns of being.
Tyson Yunkaporta, author, Sand Talk: How Indigenous Thinking Can Save the World
"With clarity, scholarship and passion Jeremy Lent rejects the ill-founded ideological cynicism of neoliberal capitalism, which is causing the unfolding planetary-wide ecological and social catastrophes that we are all witnessing. Based on solid science, the book is a long argument that offers a viable and hopeful alternative – an integrated, practical approach for constructing a new ecological civilization that draws on Buddhist, Neo-Confucian and Indigenous philosophies and stresses the interconnectedness of all life. It is a wide-ranging synthesis written for all those who have not given up on a moral stand and can be spurred into action."

Eva Jablonka, author, Evolution in Four Dimensions
"At this precarious moment in time, science has finally advanced beyond the separation of mind and matter. The Web of Meaning lays the foundation for a true world culture which is solidly scientific, yet profoundly spiritual, telling a contemporary story of a meaningful universe that includes and embraces humankind. This book is a landmark work for a time that urgently needs to understand that the cosmos is our home and not our enemy to be conquered."

Andreas Weber, author, The Biology of Wonder
"The Web of Meaning is a call for recognizing what both our newest science and our oldest spiritual traditions tell us: that we are all inextricably interconnected with one another and with nature. This thoughtful and passionate work is an important contribution to the urgently needed cultural shift from domination to partnership."

Riane Eisler, author, The Chalice and the Blade, The Real Wealth of Nations, and Nurturing Our Humanity
"The Web of Meaning is a profound book of wisdom. If we are ever to remember how to live lives of meaning and grace, it will be in great measure because of books like this one."

Derrick Jensen, author, The Myth of Human Supremacy
ABOUT THE AUTHOR:
Jeremy Lent is the award-winning author of The Patterning Instinct: A Cultural History of Humanity's Search for Meaning and Requiem of the Human Soul. A former internet company CEO, he is founder of the non-profit Liology Institute dedicated to fostering an integrated, life-affirming worldview. He lives in Berkeley, California.
RIGHTS INFORMATION:
Languages & Territories Where Rights Have Been Sold:
Please contact subagents for the following languages and territories:
For all other languages/territories, please contact Roam Agency.