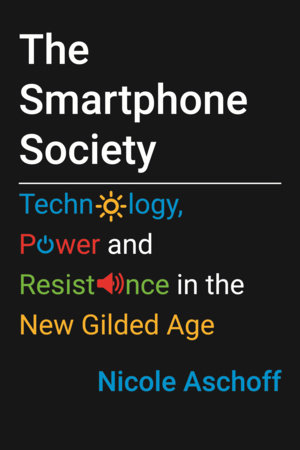 THE SMARTPHONE SOCIETY
Technology, Power, and Resistance in the New Gilded Age
Nicole Aschoff
Beacon Press (March 2020)
Hardcover • ISBN-13:9780807061688 • US $24.95 • 240 pgs.
ABOUT THE BOOK:
PRAISE:
"Aschoff's analysis of our relationship to our phones is relevant and urgent. She gives us enough context to understand our addictions, our willingness to be surveilled and manipulated, and, better yet, the avenues of resistance against the tech titans that increasingly control our time, attention, and futures."
Cathy O'Neil, author of Weapons of Math Destruction: How Big Data Increases Inequality and Threatens Democracy and CEO of O'Neil Risk Consulting & Algorithmic Auditing
"In The Smartphone Society, Nicole Aschoff gives us fresh insight into how the device and our everyday lives have morphed into one another. She considers the good and the bad, and helps us to understand how the smartphone has reshaped society in innumerable ways. With accessible prose, she looks into selfies and social media, politics and protest, profit and women's unpaid work. It is a cogent read in the era of the smartphone."
Rich Ling, Shaw Foundation Professor of Media Technology, Nanyang Technological University
"The Smartphone Society pierces the fog of the Silicon Valley fantasy, showing us how these little pocket computers control our lives for profit—but also how they open new paths to justice. Nicole Aschoff has given us that rare book, packed with insights and written with verve. I will never look at my smartphone the same way—and after reading The Smartphone Society, neither will you."
Jason W. Moore, professor of sociology and author of Capitalism in the Web of Life
Praise for The New Prophets of Capital:
"A highly original and fascinating exploration of what we might think of as 'changeless change'—the kind of innovation that simultaneously upends current practices and studiously protects existing wealth and power inequities. Through four well-chosen and emblematic case studies, Aschoff tackles this slippery subject with confidence and subtlety, providing readers with key intellectual tools to separate fact from fiction."
Naomi Klein, author of No Is Not Enough: Resisting Trump's Shock Politics and Winning the World We Need
"Nicole Aschoff expertly dissects the magical thinking behind America's idolatry of the invisible hand. In a series of lively and closely argued case studies, she lets readers see the threadbare state of our rationales for the market's uncontested sovereignty. And just as impressively, she urges us not to be daunted by the challenges ahead."
Chris Lehmann, author of Rich People Things: Real-Life Secrets of the Predator Class
"Nicole Aschoff has skewered the high priests and priestesses of our most unshakable religion: capitalism. Anyone persuading you to 'lean in,' engage in 'conscious capitalism' or admire philanthropists will be (rightfully) upset by Aschoff's takedown of some of the big-name 'ethical capitalists' of our era: Sheryl Sandberg, Bill Gates, Whole Foods' John Mackey. Aschoff takes apart the platitudes of liberal capitalism and offers a solid set of alternatives that stress the collective over the individual, people over profit, and real narratives over cover stories."
Nina Power, author of One Dimensional Woman
"The New Prophets of Capital is intellectually serious without succumbing to critical jargon, and Aschoff makes her points both thoughtfully and rigorously."
Kate Tuttle, Boston Globe
"Wry and adroit."
Elizabeth Stoker Bruenig, The New Republic
ABOUT THE AUTHOR:
Nicole Aschoff is a writer and sociologist. She is the author of The New Prophets of Capital (Verso, 2015). She is a member of the Jacobin editorial board and her writing has been featured in the Guardian, the Nation, Al Jazeera, Dissent, and openDemocracy. She received her Ph.D. in Sociology from the Johns Hopkins University, taught at Boston University, and is the former managing editor of Jacobin magazine.