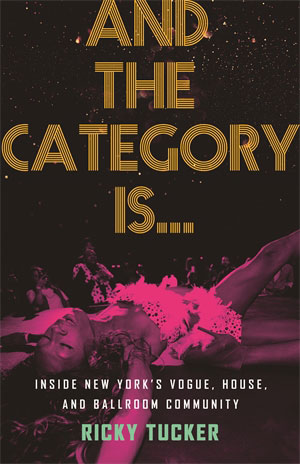 AND THE CATEGORY IS…
Inside New York's Vogue, House, and Ballroom Community
Ricky Tucker
Beacon Press (December 7, 2021)
Cloth • ISBN-13: 978080700348 • US $27.95 • 5.5 in x 8 in
ABOUT THE BOOK:
A celebration of the Black and Latinx LGBTQ underground subculture, uncovering its abundant legacy and influence in popular culture and queer rights.
What is Ballroom? Not a song, a documentary, a catchphrase, a TV show, or an individual pop star. It is an underground subculture founded over a century ago by LGBTQ African American and Latino men and women of Harlem. This unique intersectional culture transcends identity, acting as an unparalleled response to the systematic marginalization of minority populations.
Written directly from within the community, Ricky Tucker reveals the complex cultural makeup and ongoing relevance of House and Ballroom, a space where trans lives are respected and applauded. With each chapter framed as a "category" (Vogue, Shade, Pride, et al), And the Category Is offers an impressionistic point of entry into this subculture, its deeply integrated history, and how it's been appropriated for mainstream audiences. Each category features an exclusive interview with an LGBTQ/POC Ballroom member—Lee Soulja, Benjamin Ninja, Twiggy Pucci Garçon, and more—whose life, work, and activism drives home that very category. At the height of its public intrigue and awareness thanks to TV shows like FX's Pose, Tucker's compelling narratives help us understand its relevance in pop culture, dance, public policy with regards to the queer community, and so much more.
ABOUT THE AUTHOR:
Ricky Tucker is a North Carolina native, storyteller, educator, lead creative and art critic. His work explores the imprints of art and memory on narrative, and the absurdity of most fleeting moments. He has written for The Paris Review, The Tenth Magazine, and Public Seminar among others and performed for reading series including The Moth Grand SLAM, Sister Spit, Born: Free, and Spark London. He received his BA from The New School as a Riggio: Writing and Democracy scholar, and a Writer/Teacher MA at Goldsmiths, University of London. In 2017 he was chosen as a LAMBDA Literary Emerging Writer Fellow for creative nonfiction. Connect with him online at thewriterrickytucker.com.