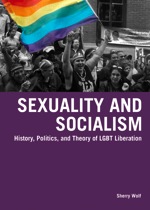 SEXUALITY AND SOCIALISM
History, Politics, and Theory of LGBT Liberation
By Sherry Wolf
Haymarket Books (June 2009, world English rights)
Paper • ISBN-13: 9789131859790 • US $12 • 5 x 7 in • 240 pgs.
ABOUT THE BOOK:
An indispensable history and contemporary guide to the struggle for authentic sexual equality and liberation.
The movement for LGBT rights has greatly expanded sexual freedom, but many challenges confront the struggle for equality. Sherry Wolf's Sexuality and Socialism offers a Marxist analysis that links today's struggles for equal rights to a future based on genuine liberation.
PRAISE:
"'What humans have constructed they can tear down.' This is the powerful insight of this rare book that is at once politically important, theoretically and historically sophisticated, and clearly written. Sexuality and Socialism is enlivened in its engagement with a number of controversies, including those over the alleged biological determination of homosexuality, the myth of Black homophobia, and the consequences of postmodernist theories for the politics of gay liberation. Above all else, Wolf puts forward a cogent defense of the Marxist tradition — long and wrongly reviled as homophobic in itself — as a way to explain how LGBT oppression arose and what we can do to put it to bed."
Dana Cloud, University of Texas at Austin
ABOUT THE AUTHOR:
Sherry Wolf is on the editorial board of the International Socialist Review. She has written for publications including MRZine and CounterPunch and has spoken across the country on the struggle for gay and lesbian liberation.
RIGHTS INFORMATION:
Please contact subagents for the following languages and territories:
For all other languages/territories, please contact Roam Agency.