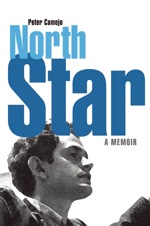 NORTH STAR
A Memoir
By Peter Camejo
Haymarket Books (January 2010, world English rights)
Paper • ISBN-13: 9781931859929 • 8.5 in x 5.5 in • 340 pgs.
ABOUT THE BOOK:
This is the autobiography of a remarkable life.
As the New York Times wrote, "A first generation Venezuelan-American … Mr. Camejo [spoke] out against the Vietnam War and for the rights of migrant workers. He marched in Selma, Alabama, with the Rev. Dr. Martin Luther King."Camejo (1939-2008) founded the California Green Party, won 360,000 votes in his run for Governor in 2002, and ran as Ralph Nader's vice-presidential candidate in 2004.
PRAISE FOR PETER CAMEJO:
"Peter was a friend, colleague and politically courageous champion of the downtrodden and mistreated of the entire Western Hemisphere."
Ralph Nader
ABOUT THE AUTHOR:
Peter Camejo (1939-2008) was a leader of the Green Party and prominent social justice activist.
RIGHTS INFORMATION:
Please contact subagents for the following languages and territories:
For all other languages/territories, please contact Roam Agency.