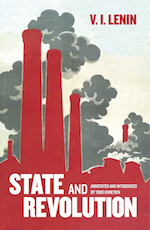 STATE AND REVOLUTION
By V.I. Lenin
Edited by Todd Chretien
Haymarket Books (November 2014, world English rights)
Paper • ISBN-13: 9781931859905 • 5.5 in x 8.5 in • $14.95 • 191 pgs.
ABOUT THE BOOK:
Vladimir Ilyich Lenin was hiding from the police during the 1917 Russian Revolution while he finished State and Revolution. Lenin's most widely read—and most misunderstood—book describes the "monstrous oppression of the working people by the state" and how capitalism transforms whole areas of the globe into "military convict prisons for workers." State and Revolution defends Marx and Engels's argument that workers must dismantle, or "smash" capitalist states through revolution from below, and replace them with radically democratic states.
The new edition features an introduction and hundreds of explanatory annotations by Tood Chretien that place Lenin's work in its historical context. Chretien provides insight into some of the book's most controversial points, many of which are still being debated in movements today, from the Arab Spring revolutions to upheavals in Greece and Venezuela, to the fight against mass incarceration in the United States.
State and Revolution is an indispensable guide to confronting the political and bureaucratic structures that stand between humanity and the creation of a socialist world based on fulfilling human need. No revolutionary should be without it.
ABOUT THE AUTHOR:
V.I. Lenin (1870-1924) was a leader of the 1917 Russian Revolution and wrote extensively on the issues facing the socialist movement of his time.
An activist in San Francisco for many years, Todd Chretien has been involved in numerous movements for social justice, including those for immigrant rights and opposition to the death penalty.
RIGHTS INFORMATION:
Please contact subagents for the following languages and territories:
For all other languages/territories, please contact Roam Agency.