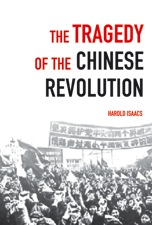 THE TRAGEDY OF THE CHINESE REVOLUTION
By Harold Isaacs
Haymarket Books (May 2009, world English rights)
Paper • ISBN-13: 9781931859844 • US $24 • 6 in x 9 in • 550 pgs.
ABOUT THE BOOK:
The story of how China's modern development rests on the tragically suppressed struggle for a genuine socialism.
The story of contemporary China typically dates back to Mao's 1949 revolution. But in this classic work of Marxist scholarship, historian Harold Isaacs uncovers how workers and peasants struggled for a different kind of revolution, one built from the bottom up, in the 1920s. The defeat of their heroic efforts profoundly shaped the further course of modern Chinese history.
PRAISE:
"The reprint of this classic Marxist history should be a major event. The book is not about Mao's peasant led 1949 revolution but the story of the great worker led insurrection of 1925 to 1927. It is an extraordinary half-buried story of popular uprising and political betrayal, brilliantly told. And even though it was written in 1937 it's a story that throws much light on China's subsequent development. Isaacs's book is an inspiration and a warning."
Counterfire
ABOUT THE AUTHOR:
Harold Isaacs was an acclaimed Marxist historian who identified with Leon Trotsky's critique of the Soviet Union's degeneration under Stalinism during the 1920s. The Tragedy of the Chinese Revolution, his major work, is dedicated to the "martyrs" of the 1925-1927 revolution, who fought for a society based on authentic self-governance.
RIGHTS INFORMATION:
Languages & Territories Where Rights Have Been Sold:
| Language/Territory | Publisher |
| --- | --- |
| English in India, Nepal, Bangladesh, and Sri Lanka | Aakar Books |
| German/worldwide | Mehring |
| Korean/worldwide | Chaekgalpi |
Please contact subagents for the following languages and territories:
For all other languages/territories, please contact Roam Agency.