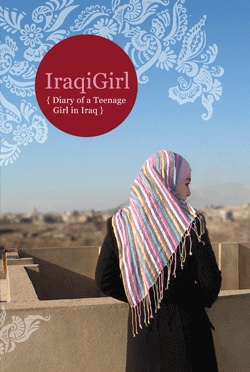 IRAQIGIRL
Diary of a Teenage Girl in Iraq
By IraqiGirl
Haymarket Books (July 2009, English rights worldwide)
Paper • ISBN-13: 9781931859738 • US $13 • 5 x 7 in • 100 pgs.
ABOUT THE BOOK:
In a country torn apart by war, a teenage girl blogs her story of family, friendship, and life under American occupation.
"I forgot what peace looks like. What the street looks like. What the sky in the night look like. What my relatives look like. Sometimes I just think that if you could see what my eyes see, if you could hear what my ears hear, you would be able to understand what I mean."
These are the words of IraqiGirl, a teenage girl blogging from the city of Mosul, Iraq, as the chaos and violence of military occupation unfold in the after math of the American invasion. In a narrative charged with anger, IraqiGirl wants her readers to understand what life is really like under military occupation.
"Let's go back," she writes, "to my un-normal life." And here IraqiGirl allows us to discover a story the Western media rarely allow us a glimpse of: the story of how the Iraq War has shattered lives and broken hearts. But we also discover, in her personal reflections on family, friendship, and community, the resilience of one girl to not only survive, but to discover, amidst the devastation of war, a future worth living for. As she writes: "For the sake of the smile that was given to no one but me, for the sake of my grandpa and for the sake of my country and for the sake of my religion and for the sake of my God … I want to know my destination."
ABOUT THE AUTHOR:
IraqiGirl was fifteen years old when she began blogging from her home city of Mosul, Iraq, in July 2004. The book follows her story through 2007. Presently IraqiGirl attends college and continues to struggle for a better future. The address for her blog is http://iraqigirl.blogspot.com.
RIGHTS INFORMATION:
Languages & Territories Where Rights Have Been Sold:
| Language/Territory | Publisher |
| --- | --- |
| Swedish in Sweden | Epix |
Please contact subagents for the following languages and territories:
For all other languages/territories, please contact Roam Agency.