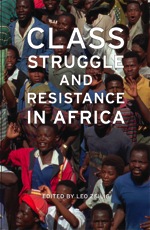 CLASS STRUGGLE AND RESISTANCE IN AFRICA
Edited by Leo Zeilig
Haymarket Books (September 2008, world English rights)
Paper • ISBN-13: 9781931859684 • US $17 • 3.5 x 8.4 in • 224 pages
ABOUT THE BOOK:
This collection of essays and interviews studies class struggle and social empowerment on the African continent.
Employing Marxist theory to address the postcolonial problems of several different countries, experts analyze such issues as the renewal of Islamic fundamentalism in Egypt, debt relief, trade union movements, and strike action. Includes interviews with leading African socialists and activists.
With contributions from Leo Zeilig, David Seddon, Anne Alexander, Dave Renton, Ahmad Hussein, Jussi Vinnikka, Femi Aborisade, Miles Larmer, Austin Muneku, Peter Dwyer, Trevor Ngwane, Munyaradzi Gwisai, Tafadzwa Choto, and Azwell Banda.
PRAISE:
"This fascinating book fills a vacuum that has weakened the believers in Marxist resistance in Africa."
Joseph Iranola Akinlaja, General Secretary of the National Union of Petroleum and Natural Gas Workers, Nigeria
"Cutting-edge."
Patrick Bond, author of Looting Africa: The Economics of Exploitation
"Read this for inspiration, for the sense that we are part of a world movement."
Socialist Worker (London)
"Grab this book. Highly recommended."
Tokumbo Oke, Bookmarks Review of Books
ABOUT THE AUTHOR:
Leo Zelig coordinated the independent media center in Zimbabwe during the presidential elections of 2002 and, prior to this, worked as a lecturer at Universite Cheikh Anta Diop in Dakar, Senegal. He then worked for three years as a lecturer and researcher at Brunel University, moving later to the Center of Sociological Research at the University of Johannesburg, and the department of sociology at the University of the Witwatersrand. He has written on the struggle for democratic change, social movements, and student activism in sub-Saharan Africa. Zeilig is coauthor of The Congo: Plunder and Resistance 1880-2005.
RIGHTS INFORMATION:
Languages & Territories Where Rights Have Been Sold:
| Language/Territory | Publisher |
| --- | --- |
| Arabic/worldwide | Al Arabi Publishing and Distributing |
Please contact subagents for the following languages and territories:
| Language/Territory | Subagent |
| --- | --- |
| China, Taiwan, Indonesia, Malaysia, and Vietnam | Big Apple Agency |
| English outside North America | David Grossman Literary Agency |
| German | Paul & Peter Fritz AG Literatur Agentur |
| Greek | Read n' Right Agency |
| Hebrew | The Deborah Harris Agency |
| Italian | The Nabu International Literary Agency |
| Japanese | The English Agency (Japan) Ltd |
| Korean | BC Agency, or Korea Copyright Center |
| Portuguese | RIFF Agency |
| Russia/Baltics/Eastern Europe | Prava I Prevodi |
| Scandinavia: Sweden, Norway, Finland, Denmark, Iceland | Brandt New Agency |
| Spanish in Latin America | International Editors' Co., S.A. |
| Spanish in Spain | International Editors' Co., S.A. |
| Turkish | Anatolialit Agency |
For all other languages/territories, please contact Roam Agency.