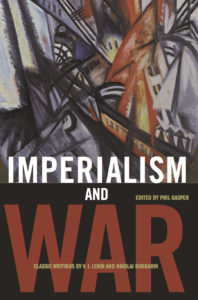 IMPERIALISM AND WAR
Classic Writings by V. I. Lenin and Nikolai Bukharin
Edited by Phil Gasper
Haymarket Books (Fall 2017, world English rights)
Paper • ISBN-13: 9781931859660 • US $14 • 5.75 x 8.38 in • 352 pgs.
ABOUT THE BOOK:
The two founding texts of the analysis of capitalism and imperialism in one volume, with annotation.
Here in one volume, with critical notes and context, are Lenin's Imperialism: The Highest Stage of Capitalism and Bukharin's Imperialism and World Economy. Essential for understanding the nature of imperialism and war historically — and today.
ABOUT THE AUTHOR:
Phil Gasper is professor emeritus at Notre Dame de Namur University in Belmont, California. He previously taught at Cornell University, the University of Michigan (Ann Arbor), Middlebury College, the University of California San Diego, and Stanford University. He currently lives and works in Madison, Wisconsin.
Gasper is co-editor of The Philosophy of Science (MIT Press, 1991), and a contributor to Explanation and Its Limits (Cambridge, 1990), The Cambridge Dictionary of Philosophy (2nd ed., 1999), The Struggle for Palestine (Haymarket, 2002), Enduring Freedom or Enduring War? (Maisonneuve, 2005), Encyclopedia of Activism and Social Justice (Sage, 2007), Encyclopedia of the Israeli-Palestinian Conflict (Lynne Rienner, forthcoming) and Encyclopedia of Race and Crime (Sage, forthcoming). His academic publications have also appeared in The Philosophical Review, Philosophy of Science, The Radical Philosophy Review of Books and Hypatia.
He is a on the editorial board of — and writes the bimonthly "Critical Thinking" column for — the International Socialist Review, and is a contributor to Socialist Worker, CounterPunch, ZNet, and MRzine.
V. I. Lenin (1870-1924) was a leader of the Russian Revolution and wrote extensively on the issues facing the working-class movement of his time.
Nikolai Bukharin (1888-1938) was a Bolshevik leader and intellectual, and later a Soviet politician until his execution at the hands of Stalin's government.
RIGHTS INFORMATION:
Please contact subagents for the following languages and territories:
For all other languages/territories, please contact Roam Agency.