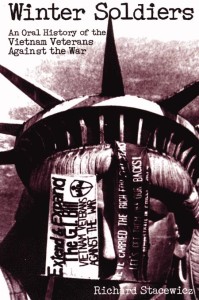 WINTER SOLDIERS
An Oral History of the Vietnam Veterans Against the War
By Richard Stacewicz
Haymarket Books (September 2008, world English rights)
Paper • ISBN-13: 9781931859608 • US $18 • 6 x 9 in • 470 pages
ABOUT THE BOOK:
The story of the soldiers who spoke their conscience and helped end the war in Vietnam.
The Vietnam War left an indelible mark on those who took part in it and spawned an antiwar movement more popular than any other in U.S. history. In all that has been written about the war, rarely do the worlds of the Vietnam veteran and the antiwar demonstrator come together. Yet in a small but articulate organization known as Vietnam Veterans Against the War (VVAW), the two made common cause.
Winter Soldiers recovers this moving chapter in the history of the Vietnam War era. Bringing together the voices of more than thirty former and current members of the VVAW, oral historian Richard Stacewicz offers an eloquent account of the impact of the war on the lives of individuals and the nation.
PRAISE:
"Winter Soldiers is an immensely valuable contribution to the history of the Vietnam War. It brings to life, through the words of the veterans themselves, the journey each individual made, through the crucible of combat, from warrior to protester."
Howard Zinn
"Stacewicz has captured the simple, rough-hewn elegance of the voices of Vietnam veterans. As in other wars, the ordinary soldier always has the most extraordinary words for history."
Stanley Kutler, editor of The Encyclopedia of the Vietnam War
"By turns irreverent and painfully sincere, Winter Soldiers will transform stereotyped views of both veterans and the antiwar movement."
Marilyn Young
ABOUT THE AUTHOR:
Richard Stacewicz is coordinator of the Honors Program and a professor of social science and history at Oakton Community College in Des Plaines, Illinois. He joined Vietnam Veterans Against the War in 1993 and works today with the Chicago chapter.
RIGHTS INFORMATION:
Please contact subagents for the following languages and territories:
| Language/Territory | Subagent |
| --- | --- |
| China, Taiwan, Indonesia, Malaysia, and Vietnam | Big Apple Agency |
| English outside North America | David Grossman Literary Agency |
| German | Paul & Peter Fritz AG Literatur Agentur |
| Greek | Read n' Right Agency |
| Hebrew | The Deborah Harris Agency |
| Italian | The Nabu International Literary Agency |
| Japanese | The English Agency (Japan) Ltd |
| Korean | BC Agency, or Korea Copyright Center |
| Portuguese | RIFF Agency |
| Russia/Baltics/Eastern Europe | Prava I Prevodi |
| Scandinavia: Sweden, Norway, Finland, Denmark, Iceland | Brandt New Agency |
| Spanish in Latin America | International Editors' Co., S.A. |
| Spanish in Spain | International Editors' Co., S.A. |
| Turkish | Anatolialit Agency |
For all other languages/territories, please contact Roam Agency.