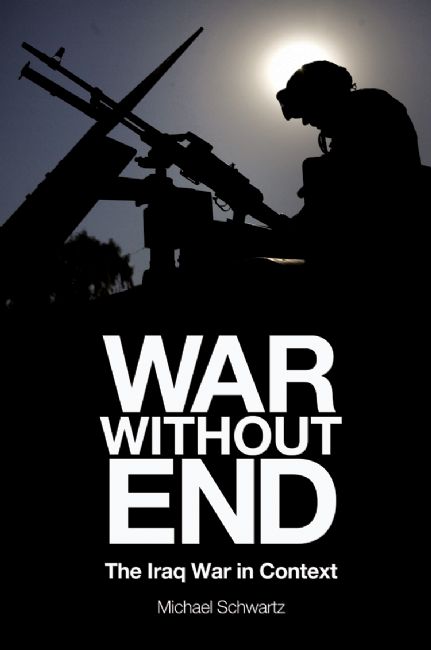 WAR WITHOUT END
The Iraq Debacle in Context
By Michael Schwartz
Haymarket Books (June 2008, world English rights)
Paper • ISBN-13: 9781931859547 • US $16 • 8.5 in x 5.5 in • 240 pgs.
ABOUT THE BOOK:
Michael Schwartz gets behind the headlines, revealing the real dynamics of the Iraq debacle and its legacy.
In this razor-sharp analysis, TomDispatch.com commentator Michael Schwartz turns every mainstream conclusion about Iraq on its head. He shows how U.S. occupation is fueling civil war in Iraq and beyond and how U.S. officials dismantled the Iraqi state and economy, helping to destroy rather than rebuild the country.
In a popular style, reminiscent of the best writing against the Vietnam War, he punctures the myths used to sell the U.S. public the idea of an endless "war on terror" centered in Iraq. Schwartz shows how the real U.S. interests in Iraq were rooted in the geopolitics of oil and the expansion of a neoliberal economic model in the Middle East — and around the globe — at gunpoint.
War Without End also reveals how the failure of the United States in Iraq has forced U.S. planners to fundamentally rethink the imperial dreams driving recent foreign policy.
This book is the third in a series of very successful books published in cooperation with TomDispatch.com, including the New York Times bestseller United States v. George W. Bush et al. by Elizabeth de la Vega (Seven Stories Press).
PRAISE:
"Michael Schwartz pushes beyond 'Iraq fatigue' to paint a big, bold picture of the geopolitical forces that brought us to war, then fills in the details with heart-breaking description of the human reality of occupation. A courageous contribution from one of the best Iraq analysts writing today."
Naomi Klein, author, The Shock Doctrine: The Rise of Disaster Capitalism
"Informed, cogent, and sharply analytical, Michael Schwartz probes aspects of the war in Iraq that are usually ignored. Read this book to know how total the catastrophe really is."
Frances Fox Piven, author, The War at Home
"Americans have all along needed a sociologist, not a general, to help them understand Iraq. They need to know about social movements, not just militias, and about oil politics, not just personalities in the news. We have the incredible good fortune that the perspicacious Michael Schwartz boldly stepped forward to cast floods of illumination on the Iraq War and its tragic social costs."
Juan Cole, Informed Comment
"As a radical American sociologist, Michael Schwartz continues the critical and committed tradition best illustrated by C. Wright Mills half a century ago. In the so-called 'Information Age,' Schwartz remarkably shows that, even for a country so far away from the United States and as opaque and out of reach as Iraq is, critical intellectuals can gather enough information through the Internet to exert their duty as citizens. They can read into the actual policies of their government and decipher the hypertext of its hypocritical statements in order to alert their fellow citizens to the horrors perpetrated in their name. This book is Michael Schwartz's own equivalent of C. Wright Mills's Listen, Yankee, based on virtual forays into Iraq and an acute grasp of the machinery of U.S. empire."
Gilbert Achcar, author (with Noam Chomsky), Perilous Power
ABOUT THE AUTHOR:
Michael Schwartz received a Ph.D. in Sociology at Harvard in 1971, where he worked with Harrison White, the pre-eminent mathematical sociologist, and Thomas Pettigrew, a seminal figure in the development of scholarly analysis of the Civil Rights movement. He has taught at Harvard, UCLA, Edinburgh University, Chuo University in Tokyo, and — for the last 35 years — at the State University of New York at Stony Brook., where he was the founding director the Institute for Social Analysis. He was a pioneer in the development of historical sociology and in the application of network analysis to economic phenomena, and was instrumental in establishing Stony Brook as an internationally known center for economic sociology.
In addition to historical and economic sociology, Professor Schwartz has undertaken research projects in the areas of social movements, business structure, class structure, behavior genetics, homelessness, industrial decline, and — most recently — the current war in Iraq.
In all areas in which he has worked, Professor Schwartz has been noted for his eclectic methodological orientation. He was an innovator in the application of historical methods in sociology, and has also utilized large survey methodologies as well as focus groups and ethnographic interviews. His quantitative work has included developing and utilizing the most advanced techniques available, and applying these methods to address previously intractable issues. His publications include pioneering methodological works in network analysis, quantitative history, the application of logistical regression to industrial location analysis, and the first application of sophisticated time series analysis to homeless trajectories.
Professor Schwartz has published five books and over 50 articles, including the widely acclaimed Radical Protest and Social Structure, a pioneering work in historical sociology and social movement analysis; The Power Structure of American Business (with Beth Mintz), an award winning analysis of American business structure, and Social Policy and the Conservative Agenda (edited, with Clarence Lo), a collection that analyzed the resiliency of the conservative move in American politics during the Clinton years.
Professor Schwartz has written extensively on the war in Iraq since its inception, analyzing topics as diverse as American military strategy, the nature of the insurgeny, and the impact of the war on Iran's position in Middle East politics. His work on Iraq has appeared on numerous internet sites, including TomDispatch, Asia Times, Mother Jones, and ZNET; and in print in Contexts, Cities, and Z Magazine.
RIGHTS INFORMATION:
Please contact subagents for the following languages and territories:
For all other languages/territories, please contact Roam Agency.