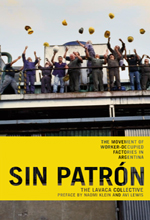 SIN PATRÓN
Stories from Argentina's Worker-Run Factories
By the LaVaca Collective
Foreword by Naomi Klein and Avi Lewis
Haymarket Books (May 2007, world English rights)
Paper • ISBN-13: 9781931859431 • US $16 • 5.75 in x 8.375 in • 320 pgs.
ABOUT THE BOOK:
The inside story of Argentina's remarkable movement to create factories run democratically by workers themselves.
The worker-run factories of Argentina offer an inspirational example of a struggle for social change that has achieved a real victory for working people confronting corporate globalization. Sin Patrón gives an insider's account of this important movement.
ABOUT THE AUTHORS:
Lavaca is an editorial and activist collective, formed in 2001 in Buenos Aires, with the aim of chronicling, sharing the experiences of, and building solidarity with social movements in Argentina and beyond.
Naomi Klein is an award-winning journalist and author of the international best seller No Logo: Taking Aim at the Brand Bullies. Translated into 27 languages and with over a million copies in print, The New York Times called No Logo "a movement bible." In 2000, The Guardian Newspaper short-listed it for its First Book Award, and in 2001, No Logo won the Canadian National Business Book Award, and the French Prix Mediations. Naomi Klein writes an internationally syndicated column for The Nation, The Guardian and The Globe and Mail. A collection of her work, entitled Fences and Windows: Dispatches from the Front Lines of the Globalization Debate was published in October 2002. In 2004, she released The Take, a film about Argentina's occupied factories, co-produced with director Avi Lewis. She is a former Miliband Fellow at the London School of Economics and is presently the Freda Kirchway Fellow of the Nation Institute. She lives in Toronto, Canada
Avi Lewis is one of Canada's most controversial and eloquent media personalities. His first feature documentary, The Take, follows Argentina's new movement of worker-run businesses. An emotional story of hope and resistance in the global economy, The New York Times called it "a stirring, idealistic documentary". It was nominated for 4 Gemini Awards, and won the International Jury prize at the American Film Institute festival in Los Angeles.
In the late 90s, as the host and producer of counterSpin on CBC Newsworld, he presided over more than 500 nationally televised debates in three years. In the early 1990s, he hosted City TV's landmark music journalism show "The New Music", and was MuchMusic's Political Specialist, pioneering political "uncoverage" for a youth audience and winning a Gemini Award for best Special Event Coverage.
His new television series, The Big Picture with Avi Lewis, combines hard-hitting documentaries and town hall debates. It will debut on CBC Newsworld in Fall 2006.
RIGHTS INFORMATION:
Languages & Territories Where Rights Have Been Sold:
Please contact subagents for the following languages and territories:
For all other languages/territories, please contact Roam Agency.