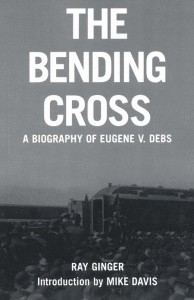 THE BENDING CROSS
A Biography of Eugene Victor Debs
By Ray Ginger
Introduction by Mike Davis
Haymarket Books (2006, world English rights)
Paper • ISBN-13: 9781931859400 • US $18 • 6.0 x 9.0 in • 540 pgs.
ABOUT THE BOOK:
This moving biography presents the definitive story of the life and legacy of the most eloquent spokesperson and leader of the U.S. labor and socialist movements.
Long out of print, this impressive and detailed portrayal of socialist and labor organizer Eugene Debs is an important contribution to the history of labor and social movements in the United States.
ABOUT THE AUTHOR:
Ray Ginger was the author of many books on American history. He taught history at Harvard University and Brandeis.
Eugene Debs (1855-1926) was a railway organizer and socialist. He ran for president five times, including once while imprisoned for sedition, when he received 913,664 write-in votes in 1920.
RIGHTS INFORMATION:
Please contact subagents for the following languages and territories:
For all other languages/territories, please contact Roam Agency.