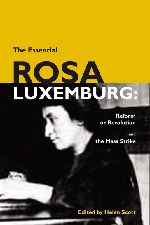 THE ESSENTIAL ROSA LUXEMBURG
Reform or Revolution and the Mass Strike
By Rosa Luxemburg
Edited by Helen Scott
Haymarket Books (March 2008, world English rights)
Paper • ISBN-13: 9781931859363 • US $12 • 280 pgs.
ABOUT THE BOOK:
This new, authoritative introduction to Rosa Luxemburg's two most important works presents the full text of Reform or Revolution and The Mass Strike, with explanatory notes, appendices, and introductions.
One of the most important Marxist thinkers and leaders of the twentieth century, Rosa Luxemburg is finding renewed interest among a new generation of activists and critics of global capitalism.
PRAISE:
"In this period of crisis, reevaluation, and renewal within the Left, the ideas of Rosa Luxemburg assume a greater vitality and relevance than ever before."
Paul Le Blanc, author, Rosa Luxemburg: Reflections and Writings
ABOUT THE AUTHOR:
Rosa Luxemburg, a Polish-born revolutionary, was a leader of the socialist movement in Germany until her murder by counter-revolutionary troops in 1919.
Helen Scott is a professor of postcolonial literature at the University of Vermont.
RIGHTS INFORMATION:
Languages & Territories Where Rights Have Been Sold:
| Language/Territory | Publisher |
| --- | --- |
| English in India | Daanish Books |
| Greek/worldwide | Polytropon |
Please contact subagents for the following languages and territories:
For all other languages/territories, please contact Roam Agency.