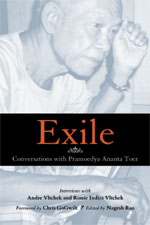 EXILE
Conversations With Pramoedya Ananta Toer
Interviews with André Vltchek and Rossie Indira
Edited by Nagesh Rao
Haymarket Books (2006, world English rights)
Paper • ISBN-13: 9781931859288 • US $16 • 5.375 in x 8.312 in • 224 pgs.
ABOUT THE BOOK:
Indonesia's most celebrated writer speaks out against tyranny and injustice in a young and troubled nation.
Pramoedya Ananta Toer helps us understand a land whose history has been corrupted and distorted both by Western intervention and internal strife. Toer here discusses personal and political topics he could never before address in public, in a book completed just before his death in early 2006.
See Tariq Ali's obituary, "Indonesia's Greatest Writer: On the Death of Pramoedya Ananta Toer"
PRAISE:
"Fascinating … [and] endlessly sad."
Noam Chomsky
"What Pram says is moving, and at times painfully so. Following everything he has experienced, from his beginnings as a writer under Dutch imprisonment in the late 1940s through the period of his exile on Buru Island under the 'New Order' regime, it is striking to learn that Indonesia's greatest living writer still describes his present condition as one of 'internal exile'."
Chris GoGwilt, Fordham University
ABOUT THE AUTHORS:
André Vltchek is an American filmmaker and journalist. He worked as a war correspondent in Peru, Colombia, Indonesia, Sri Lanka, Turkey, Mexico, East Timor and Bosnia. His most recent book is Western Terror : From Potosi to Baghdad (Common Courage Press). Vltchek is also a regular contributor to ZNet.
Rossie Indira is the production manager and translator of the documentary Terlena: Breaking of a Nation. Her father was imprisoned with Toer and was one of his closest confidants.
Nagesh Rao is Assistant Professor of English at The College of New Jersey, where he teaches Postcolonial Studies. His research on postcolonial literature and theory has appeared in several journals, including Race and Class, South Asian Review and Postcolonial Text.
RIGHTS INFORMATION:
Languages & Territories Where Rights Have Been Sold:
| Language/Territory | Publisher |
| --- | --- |
| Bahasa Indonesian/worldwide | Kepustakaan Populer Gramedia |
| Korean/worldwide | Humanitas |
| Spanish/worldwide | Editorial Popular |
Please contact subagents for the following languages and territories:
For all other languages/territories, please contact Roam Agency.