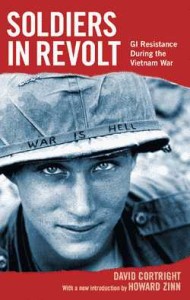 SOLDIERS IN REVOLT
GI Resistance During the Vietnam War
By David Cortright
Haymarket Books (2006, world English rights)
Paper • ISBN-13: 9781931859271 • US $16 • 5.25 in x 8.375 in • 364 pgs.
ABOUT THE BOOK:
The definitive account of GI resistance to the Vietnam War, with a new introduction by Howard Zinn.
This book — on the historic resistance of GIs and veterans against the Vietnam War — is vital for understanding the overstretched U.S. military and opposition to the invasion and occupation of Iraq among soldiers and their families today.
Soldiers in Revolt documents one of the least known and most important aspects of the Vietnam War: the rebellion among U.S. soldiers opposed to the war. From the front lines to stateside military bases, the U.S. armed forces were wracked by widespread resistance, including combat refusals and mutinies. GIs produced more than 250 antiwar committees and underground newspapers to voice their discontent. A new chapter looks at the enduring imprint of this period on the U.S. military and the lessons that this era holds for the U.S. occupation of Iraq.
PRAISE:
"This fine study, combining scrupulous scholarship with the sharp insights of a highly informed participant-observer, was the first to explore in depth the processes of disaffection, organized opposition, and resistance that undermined U.S. military forces attacking Indochina, and their far-reaching consequences. It remains today the most penetrating and revealing investigation and analysis of these remarkable developments, with current implications that are all too evident."
Noam Chomsky
"A powerful and fascinating look at rebellion within the ranks of America's military. An important book!"
Ron Kovic, author, Born on the Fourth of July
"David Cortright, in this remarkable book, reminds us, as the war in Iraq continues, that a point can be reached where men and women in uniform can no longer tolerate what they begin to see as an unjust war. It is encouraging to be reminded of the basic desire of human beings to live at peace with other human beings, once they have divested themselves of the deceptions, the nationalism, and the racism that is provoked by war."
From the new introduction by Howard Zinn, author, A People's History of the United States
"An invaluable account of a uniquely American movement that helped to bring the Vietnam War to an end. This book restores an important chapter to our living history."
Tod Ensign, author, America's Military Today
"[A]n exhaustive account of rebellion in all the armed forces, not only in Vietnam but throughout the world. … Perhaps Cortright's most important conclusion is that most of the GI resistance came not from draftees but from volunteers from working class backgrounds."
New York Review of Books
ABOUT THE AUTHOR:
David Cortright is president of the Fourth Freedom Forum and a research fellow at the Joan B. Kroc Institute for International Peace Studies at the University of Notre Dame. He is the author or editor of twelve books, including A Peaceful Superpower: The Movement Against War in Iraq (2004).
RIGHTS INFORMATION:
Please contact subagents for the following languages and territories:
| Language/Territory | Subagent |
| --- | --- |
| China, Taiwan, Indonesia, Malaysia, and Vietnam | Big Apple Agency |
| English outside North America | David Grossman Literary Agency |
| German | Paul & Peter Fritz AG Literatur Agentur |
| Greek | Read n' Right Agency |
| Hebrew | The Deborah Harris Agency |
| Italian | The Nabu International Literary Agency |
| Japanese | The English Agency (Japan) Ltd |
| Korean | BC Agency, or Korea Copyright Center |
| Portuguese | RIFF Agency |
| Russia/Baltics/Eastern Europe | Prava I Prevodi |
| Scandinavia: Sweden, Norway, Finland, Denmark, Iceland | Brandt New Agency |
| Spanish in Latin America | International Editors' Co., S.A. |
| Spanish in Spain | International Editors' Co., S.A. |
| Turkish | Anatolialit Agency |
For all other languages/territories, please contact Roam Agency.