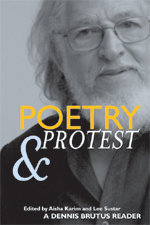 POETRY AND PROTEST
A Dennis Brutus Reader
By Dennis Brutus
Edited by Lee Sustar
Haymarket Books (2006, world English rights, except southern Africa)
Paper • ISBN-13: 9781931859226 • US $16 • 5.5 in x 8.4 in • 280 pgs.
ABOUT THE BOOK:
This collection of interviews, poetry, and essays of the much-loved anti-apartheid leader Dennis Brutus is the first book of its kind to bring together the full, forceful range of his work. Much of the material has never been published before outside South Africa.
Brutus, imprisoned along with Nelson Mandela, is known worldwide for his unparalleled eloquence as an opponent of the apartheid South African regime. In the more than ten years since its fall, Brutus has remained a voice for justice and humanity, speaking and writing extensively on issues of debt, poverty, war, racism, and neoliberalism.
PRAISE:
"We in South Africa needed the support of the international community in our efforts to end the vicious system of racial oppression called apartheid. We had to have eloquent advocates to tell the world our story and persuade it to come to our assistance…. We had none more articulate and with all the credibility and integrity so indispensable than Dennis Brutus to plead our cause. He was quite outstanding and we South Africans owe an immense debt of gratitude."
Archbishop Desmond Tutu
"Dennis Brutus stands as a tribune of the dispossessed. His willingness to speak out on all cases of injustice, and side with the oppressed makes him the type of person we all wish to emulate. His perseverance, dedication and eloquence have made him not only a hero for the South African freedom struggle, but for all those who struggle for social justice."
Bill Fletcher, TransAfrica Forum
ABOUT THE AUTHORS:
Dennis Brutus is known as "the singing voice of the South African liberation movement," Brutus, more than any other person, was responsible for South Africa's and Rhodesia's exclusion from the Olympic Games. In the 1960s and early 1970s, Brutus was a hated figure for those defending sports-apartheid. Knowing that if white South Africa was deprived of its fanatical sports devotion it would be forced to change, he helped secure suspension from the Olympics in 1964 and expulsion in 1970.
Campaigns led to his being banned from all political and social activity in South Africa. Trying to escape his ban to attend an Olympic meeting in Europe in 1963, he was arrested and subsequently sentenced to eighteen months of hard labor. He was held captive on Robben Island off Capetown, South Africa, where he spent time breaking rocks with Nelson Mandela.
After leaving South Africa in 1966 with a Rhodesian passport, Brutus made his home in England. In 1983, after engaging in a protracted legal struggle and appearing on ABC's Nightline with Ted Koppel, he won the right to stay in the United States as a political refugee. Currently living in the United States, he is now a professor of African Studies and African Literature, and Chair of the Department of Black Community Education Research and Development, at the University of Pittsburgh. He was the recipient of the Langston Hughes Award in 1987 (the first non-African American honoree) and was honored with the first Paul Robeson Award in 1989, for "artistic excellence, political consciousness and integrity."
Brutus' first collection of poetry, Sirens, Knuckles and Boots (1962), was published in Nigeria while he was still banned in South Africa. His later works include A Simple Lust (1973), China Poems (1975), Stubborn Hope (1978), Salutes and Censures (1984), Airs and Tributes (1989), and Still the Sirens (1993).
Lee Sustar has written extensively on the global justice and labor movements for numerous publications. He is a member of the National Writers Union and lives in Chicago, Illinois.
RIGHTS INFORMATION:
Languages & Territories Where Rights Have Been Sold:
| Language/Territory | Publisher |
| --- | --- |
| English/Southern Africa | University of KwaZulu-Natal Press |
Please contact subagents for the following languages and territories:
For all other languages/territories, please contact Roam Agency.